Squeezing zone inside the mountain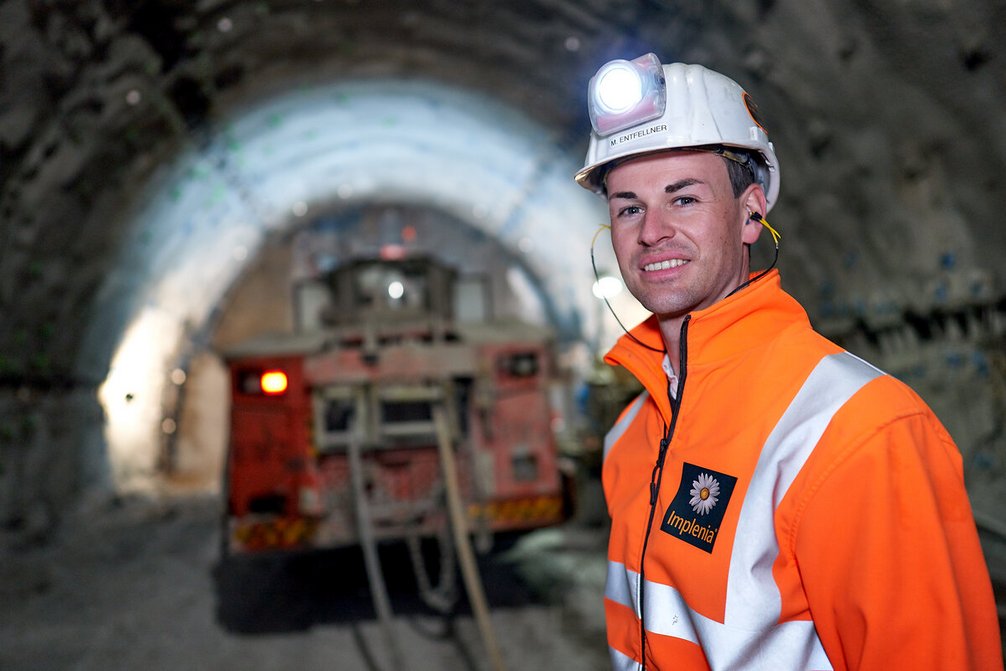 Not all mountains are the same. It is a fact familiar not just to mountaineers, but also to tunnel builders. Some mountains, like Austria's Semmering, are geologically challenging. Tunnel heading causes the very weak rock to shift, putting enormous pressure on the tunnel structures. Precautions need to be taken when building the tunnel. "Instead of creating closed, rigid shotcrete linings, we make them elastic by incorporating yielding elements," explains Manuel Entfellner. "This way, we absorb the pressure from the mountain and ensure that the tunnel is safe and stable despite the rock pressure."
Hailing from Salzburg, the 29-year-old knows what he is talking about. His final thesis for his master's degree in geotechnical engineering examined the use of exactly this type of yielding element. "These elements are under incredible pressure. Understanding the precise requirements regarding stress and strain properties is absolutely crucial when choosing a material," he explains. "Steel is the traditional choice."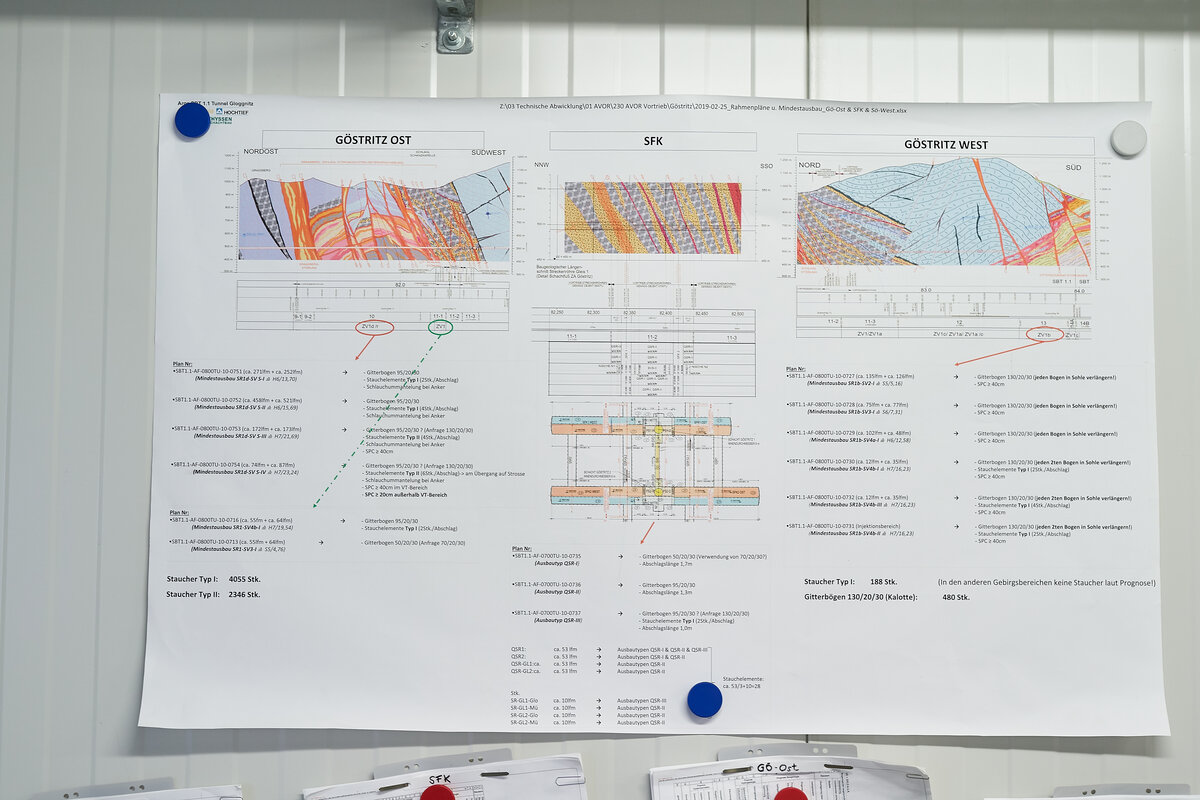 Manuel has observed the installation of yielding elements on his daily rounds of the tunnel construction site. Up to six elements are installed for each round. Each one weighs around 80 kg and is lifted into position by two men working in a very tight space and often over their heads at a height of four to five meters – a process that takes extraordinary strength. "It is extremely difficult work: laborious, exhausting, terrible ergonomically, and always a safety risk," explains construction manager Markus Viertler.
«Things happen at work where you think: that can't be the solution!»
Manuel Entfellner, Construction Manager
"Things happen at work where you think: that can't be the solution!" says Manuel. "This was one of those cases. I already knew quite a lot about yielding elements – and I wanted better ones than those available on the market at the moment."
And the construction engineer already had a solution in mind. "From my studies, I knew that EPS/polystyrene can replace steel in a lot of applications, such as when used as perimeter insulation underneath foundations," he says. "I wanted to try it out." The Semmering construction site has its own small laboratory. He ordered materials to be delivered there and began testing new solutions – mostly in his free time.
Initial trials with commercially available polystyrene showed it was not strong enough – the strength needed to be increased by a factor of 20. Success came through collaboration with an Austrian insulation producer and numerous trials in their laboratory. The next step was an extensive schedule of trials.
"We tested countless configurations of yielding elements and defined the best possible one for use in the Semmering Base Tunnel," says Manuel Entfellner. "We were then able to build a prototype and present it to the client, Österreichische Bundesbahnen (ÖBB).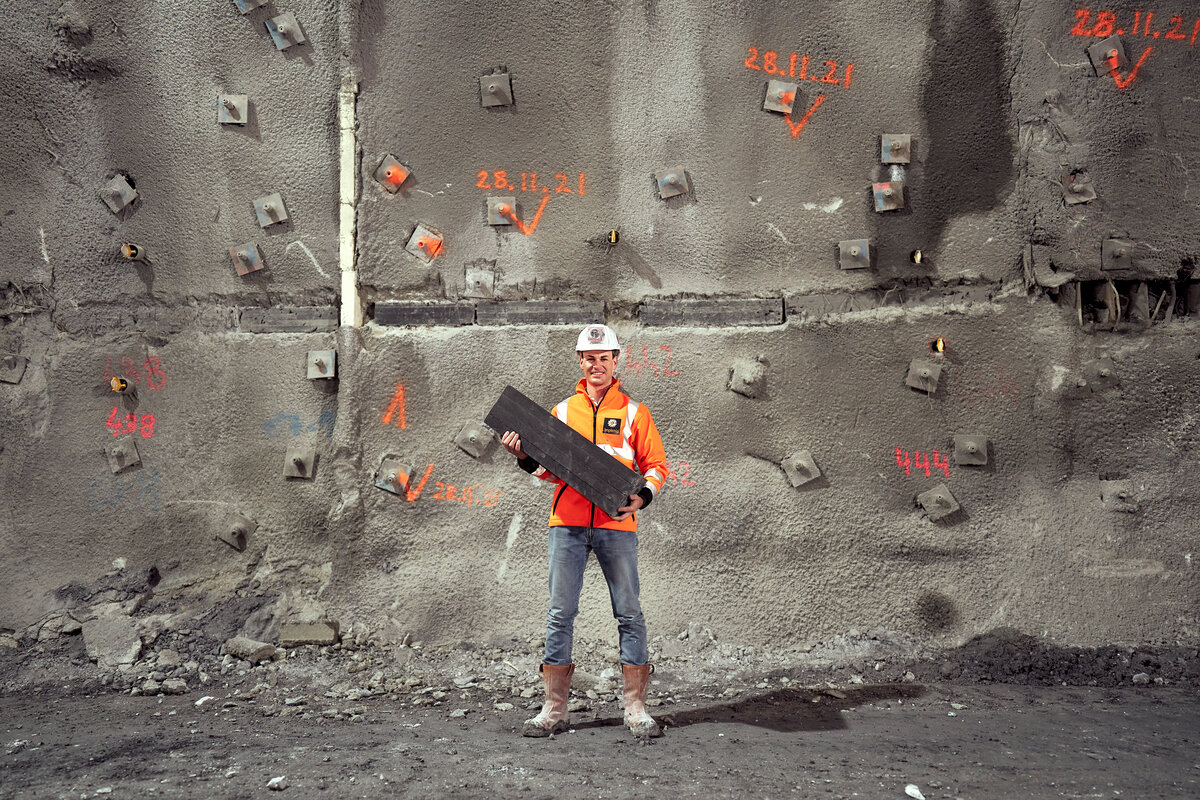 Further tests in the tunnel were also persuasive. The new element performed impressively on a 10 m test section. Not only that: the conventional steel yielding elements proved inadequate on a technically demanding section of the route. 650 of the new elements were installed there in consultation with the ÖBB, and have been performing impressively ever since.
If they are to be added to the official materials list for the project, the elements also need to be subjected to loads in the laboratory that prove they can guarantee a life span of 150 years. "In the next step, we will apply the test results in order to extrapolate to 150 years," says Manuel Entfellner. The product will then be ready for the market.
"Many colleagues were sceptical at first," says Manuel, when asked how his working environment reacted to his love of innovation. "Luckily, two people were right behind the idea from the word go and really supported me: our geotechnical expert Helmut Wannenmacher and Rudolf Knopf, Head Tunnelling Austria."
«When we improve processes or materials, we benefit directly, as it makes our work easier.»
Helmut Wannenmacher, Geotechnical Expert
Helmut Wannenmacher, also an expert in geotechnical engineering, is something of a repeat offender when it comes to innovations. "We are constantly seeing unsatisfactory solutions when working in tunnel construction," explains Helmut, who was born in Tyrol. "When we succeed in improving processes or materials, we benefit directly, as it makes our work easier. Usually the new solutions are cheaper, too. Being able to try out new ideas in my work time and again really motivates me."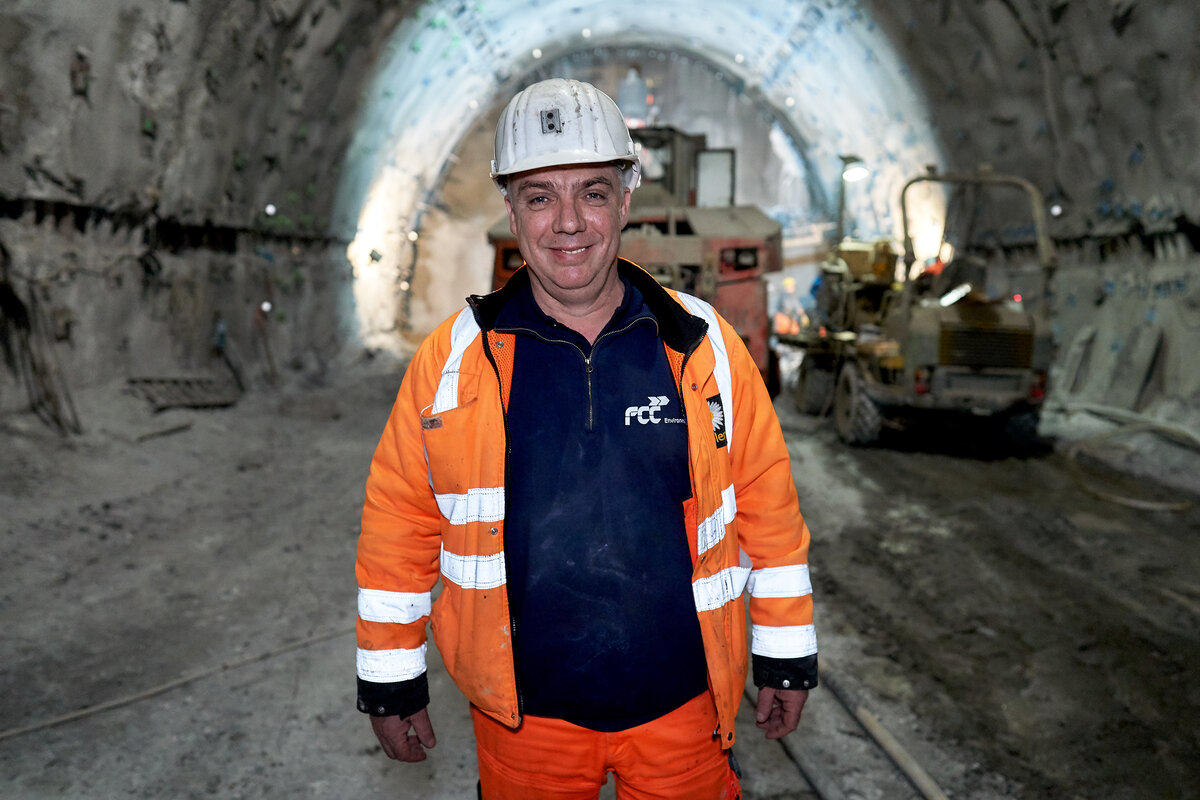 Rudolf Knopf loves working with his dedicated team and actively supports initiatives that aim to create cheaper and better products. "It was like a protected market for yielding elements, with inflated prices and unsatisfactory quality. The solution for this field is hugely welcome. I always support it when people come with good ideas. After all, 'not possible' is not in our vocabulary!"
Rudolf Knopf also encouraged Manuel to submit his suggestion to Implenia's in-house innovation programme, Kickbox. Since then, the team at the Implenia Innovation Hub has supported him in patenting the product and preparing for the market roll-out. Other companies are also interested in the solution.
«The trend for putting more and more roads and railway tracks underground is making tunnel construction an ever more important discipline.»
Rudolf Knopf, Head Tunnelling Austria
Manuel Entfellner, 29-year-old tunnel constructor and intrapreneur, can soon expect to see his development being used not only in his own project, but also enhancing tunnel construction far beyond Austria's borders. And that is no bad thing. "The trend for putting more and more roads and railway tracks underground is making tunnel construction an ever more important discipline," says Rudolf Knopf with conviction. «Innovative minds like Manuel Entfellner are making sure that we at Implenia not only deliver good work, but are playing a significant role in shaping the way construction will look in the future."
The project: Semmering base tunnel, Los 1.1 –Gloggnitz tunnel
The approximately 27.3 km long Semmering Basistunnel is one of the most important and complex infrastructure projects in the heart of Europe. This double-tube railway tunnel is located between Gloggnitz and Mürzzuschlag, linking the two federal states of Lower Austria and Styria. As part of the new southern railway, which is the central axis on the trans-European route from the Baltic Sea to the Adriatic Sea, it represents a sustainable investment in both Austrian and European rail infrastructure. The Austrian Federal Railways has commissioned Implenia, as part of a Joint Venture with HOCHTIEF and Thyssen, to build the approximately 7.4 km long initial Lot 1.1 section.
Client: Austrian Federal Railway ÖBB Infrastructure AG
Value of services provided: EUR 457 Mio.
Construction start: Januar 2015
Function Implenia: Joint venture share: 40%; technical leadership
500 meters underground at Semmering: picture gallery