Difficult logistics? Go Lean!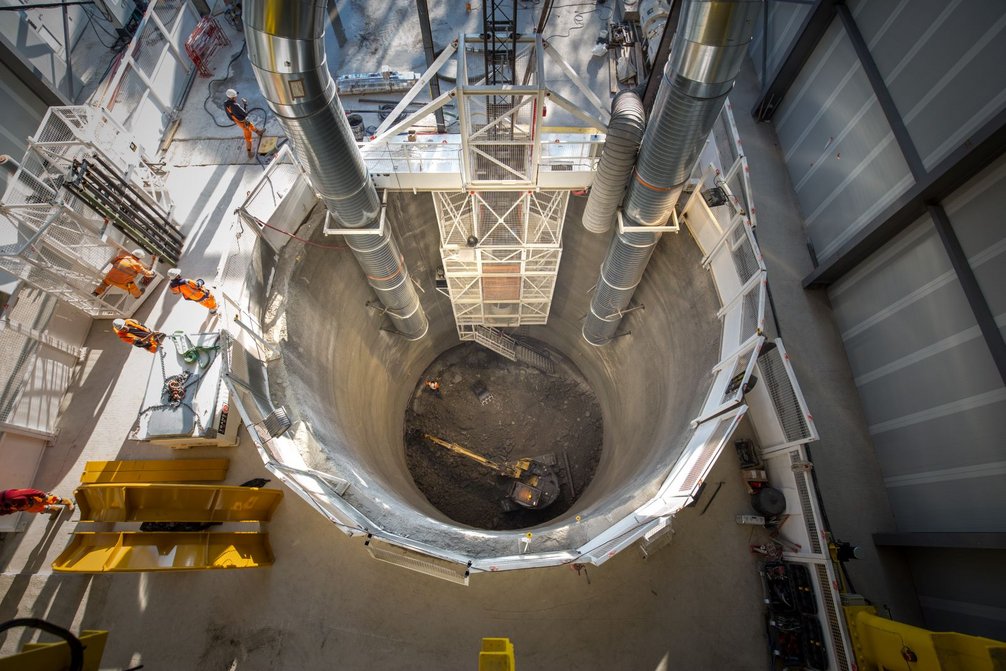 It is a demanding tunnel and specialist underground engineering project: In Cessy, France, Implenia is building an underground network of tunnels that connects to the existing tunnel of the CERN particle accelerator. Access to the tunnels is provided via an 80-metre-deep shaft. As well as five buildings on the surface, the team is building a 46-metre-long cavern at the foot of the shaft, a 300-metre-long main tunnel with a cross-section measuring 44 square metres, and four connecting tunnels to the existing tunnel.
Supplies via portal crane
Delivering machinery, equipment and concrete via a deep shaft makes logistics and its optimisation a core factor in the success of this project. A portal crane with sets of lifting gear for 15 and 50 tonnes was set up above the access shaft. It not only allows safe access for people, but also ensures the supply of materials, including large equipment and building materials, as well as concrete and formwork tools. Three cable drum attachments developed especially for this project can lift loads of up to 10 tonnes.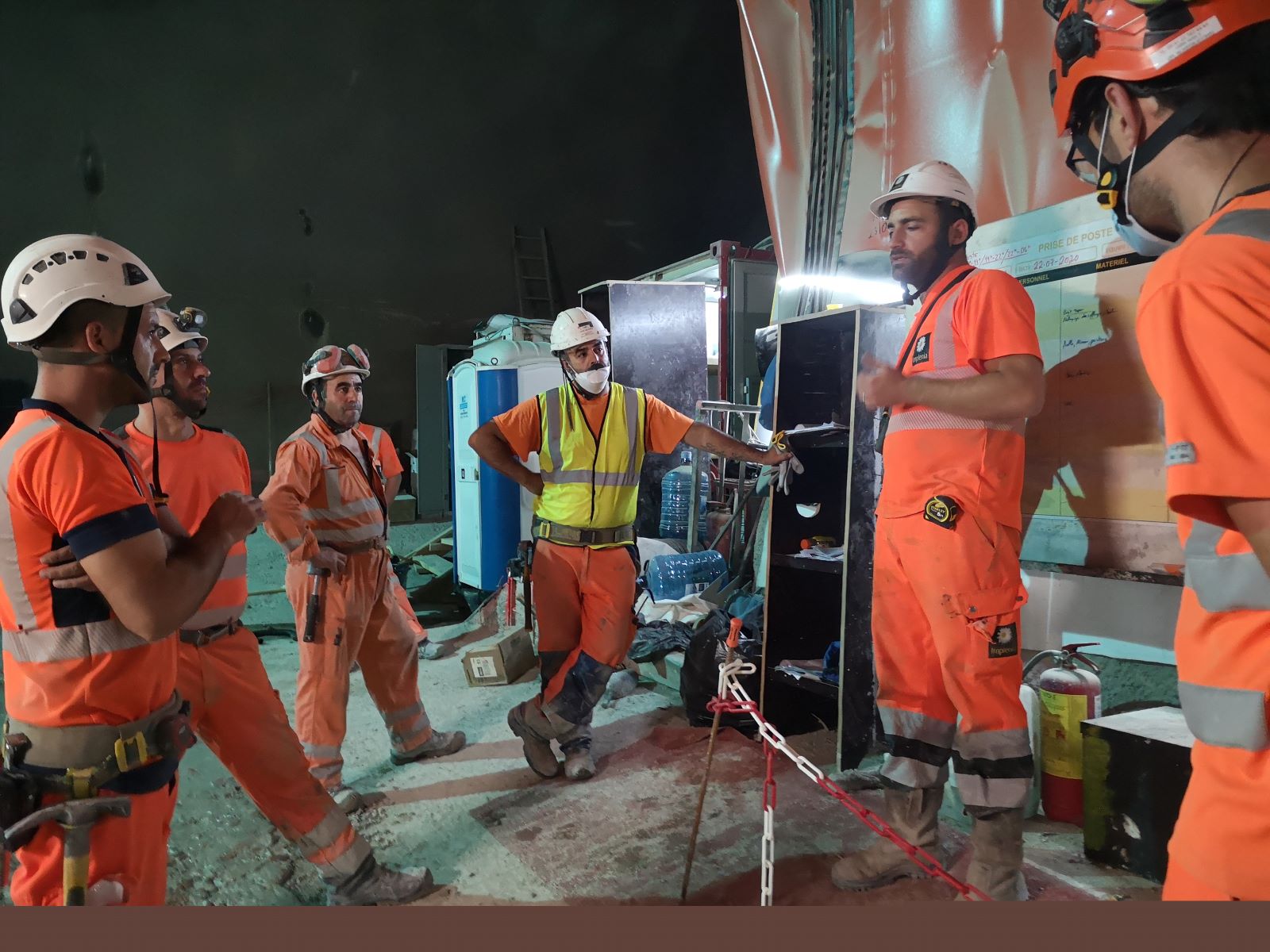 All construction site logistics are based around this portal crane. The crane operator uses a tablet PC to control the lifting processes based on a highly detailed lifting plan, which shows features of the equipment and machinery such as weight, selected endpoint and other conveying information with a high degree of accuracy. The team won the Golden Helmet for this application at the Health & Safety Awards 2019.
Accurate planning thanks to Lean
The Lean method makes interaction much easier when two phases come together, such as when underground engineering work began immediately after excavation was completed. This meant that waste material was still being removed at the same time as material needed to be supplied for subsequent construction work such as formwork and reinforcement. Thanks to special tools, Lean construction makes it possible to sequence tasks. All work processes can thus be planned with enormous precision.
"In line with the last planner system, we set up an overall plan for three weeks at a time."
Florent Baulat, Main Works Manager
"We used the last planner system (LPS) to generate an overall plan for three weeks at a time," explains Florent Baulat, Main Works Manager. "The tool allows each individual tunnel to be divided into work blocks, each with associated tasks. The logistics needs for each time period can thus be determined very accurately, and we can optimise all the tasks in terms of safety, quality and efficiency."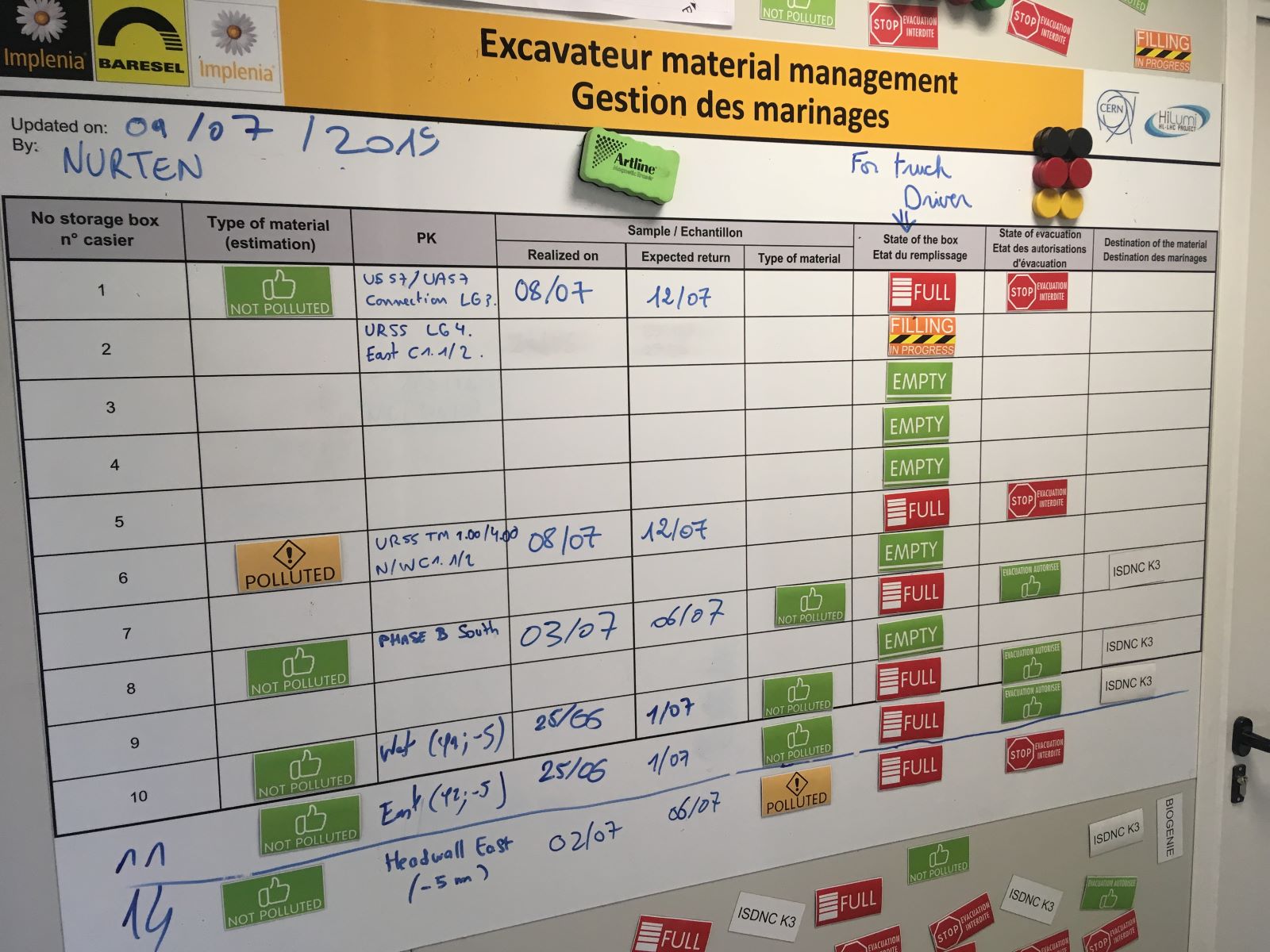 In order to optimise the lifting and transport processes, the installations at the shaft head were planned so as to create a buffer zone. "The Lean approach really paid off for us!" emphasises Florent Baulat. "We were able to optimise the planning, structure tasks and control the lifting processes in the best possible way by organising the equipment used above ground."
Greater safety and efficiency
When it comes to safety, too, the benefits of this approach are undisputed. "Thanks to the Lean construction tools, we are able to recognise risks and difficulties early and define clear, well thought out and standardised process steps," explains Safety Officer Michel Leandri. "The fewer interfaces there are, the lower the risks. Detailed task planning makes it possible. Certain tasks, such as lifting or moving heavy loads, are conducted in a short time frame thanks to clever organisation, allowing the points of contact between machinery (excavation machines) and pedestrians (concrete engineers) to be limited. The result is maximum quality and safety."
The whole team agrees that the Lean approach is worth its weight in gold, especially in logistically complex projects. Florent Baulat recommends, "Take a systematic approach in line with the Lean method for all projects, ideally as soon as you set up the construction site, and include all teams so you can define a sensible organisation of site areas, installation plans and planning in advance."
"Lean construction allows us to recognise risks and difficulties in advance and to define clear working processes."
Michel Leandri, QPE Manager
Michel Leandri adds, "Lean construction is a method that includes various tools, such as the last planner system. These enhance not only quality, safety and efficiency, but also communication and the working atmosphere. If everyone is included from the very start, the time scale is realistic and potential problems are considered in advance. This bonds teams together and improves the way they collaborate."
In 2018, the European Laboratory of Particle Physics (Centre Européen de Recherche Nucléaire – CERN) gave Implenia the go-ahead for an underground project. Various underground constructions and multiple buildings above ground are to be built. This new infrastructure is needed for CERN's showcase extension project, the High Luminosity LHC. Implenia is conducting the work as part of a consortium with Baresel and is responsible for technical leadership and lead management.