Through the Alps at 1.4 metres a day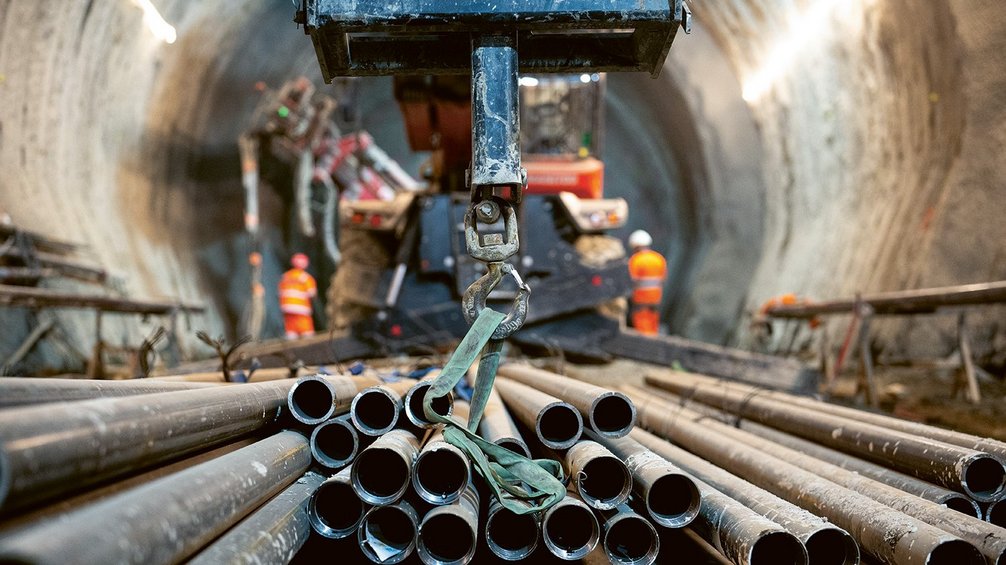 The Mont Cenis Base Tunnel will bring France and Italy closer together faster: The tunnel lies at the heart of the new high-speed rail link between Lyon and Turin – a line that forms part of the 3,000-kilometre Mediterranean corridor between Spain and Hungary. This is in turn part of the TEN-T trans-European transport network being promoted by the EU. Journey times will be cut considerably thanks to the two 57.5-kilometre-long tubes of the Mont-Cenis Base Tunnel between Saint-Julien-Mont-Denis in Savoy and Susa in Piedmont. With a planned maximum speed of 220 to 240 km/h, passenger trains will take only 1.5 hours rather than the current 3.5 to complete the journey. Freight trains will travel at between 100 and 120 km/h.
Implenia helps to build Europe's future rail network
"We are proud that we can help plan and build such an important part of the future European rail network," says Erwin Scherer, Global Head Tunnelling at Implenia. Implenia was commissioned by TELT (Tunnel Euralpin Lyon Turin) in 2021 to build Lot 3 together with joint venture partners NGE, Rizzani De Eccher and Itinera SpA. "This type of construction project allows us to demonstrate our many years of experience and extensive skills in all areas of major infrastructure projects." The project aligns with Implenia's strategy of planning and implementing complex large-scale tunnel construction projects and associated infrastructure in various markets.
Project CO08 TELT –Saint-Julien-Mont-Denis
| | |
| --- | --- |
| 5,6 km | of tunnel to excavate |
| 1'018 m | of umbrella vaults |
| 1'078 | centring frames to install |
| 11 | safety plants |
| 600'000 m3 | groundwork |
| 2'700 m2 | acoustic hangars |
| over 127,000 m2 | construction site facilities |
| 5 years | construction time |
| EUR 228 million | size of contract |
| More than 300 people | on site at peak times |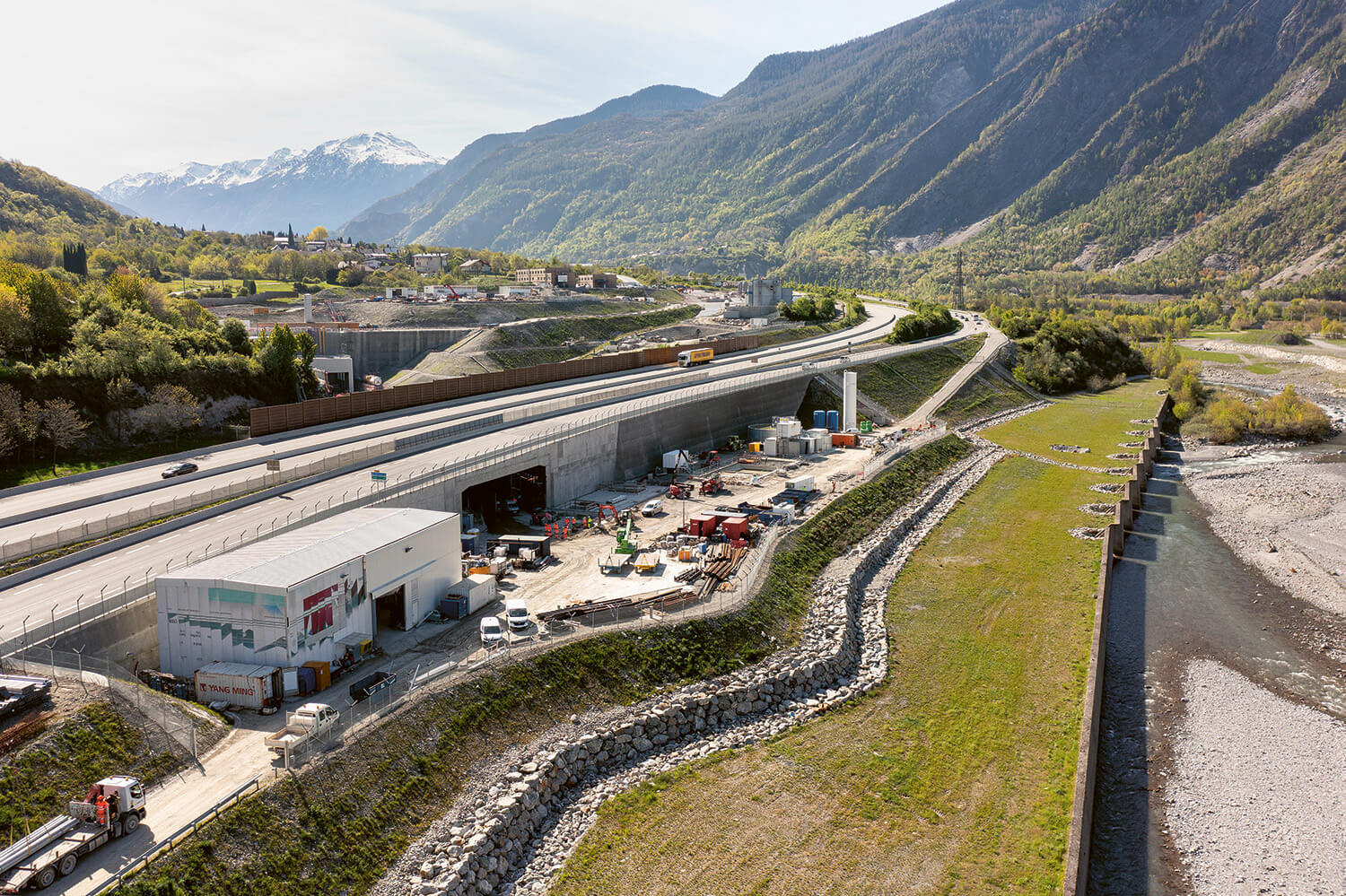 In order to build the tunnel entrance at Saint Julien Mont Denis, the Implenia-led joint venture set up camp in a sustainable wooden construction office. The project involves building two 2,839 m long tubes in the direction of Italy, along with 11 safety crossings and 140 m of cut-and-cover tunnel. Preparatory work, which began in November 2021 and lasted about a year, is already complete. A concrete mixing plant and water treatment plant have been installed, as well as 794 jet grouting columns to improve the mechanical properties of the ground in the alluvial zone. A "Parisian wall" was built to enable excavation through the soft ground. 90,000 tonnes of material were dug out for the pre-cut and the portal zone – a total of 600,000 m3 for the entire project.
Conventional tunnelling instead of a tunnel boring machine
Things really got going after the ground-breaking ceremony in December 2022. A loose ground tunnelling technique with a pipe screen is being used for the first section of about 500 m. This involves drilling a "screen" of metal pipes and driving them into the ground to support the ground before excavation begins, plus the installation of temporary support in the form of steel arches made of HEB profiles and fibre shotcrete. Anchors and drainage boreholes are used to stabilise the face, i.e. the foremost part of the tunnel where the rock is removed and the cavity is made. This procedure temporarily secures the freshly made tunnel before the in-situ concrete inner shell is installed.
Machine engineer Philippe Liotard explains what equipment is needed for this initial section: "Conventional tunnelling uses various types of equipment. Excavation is typically done by tunnel diggers or conventional diggers fitted with demolition hammers or hydraulic cutters, wheel loaders with side tipping buckets, and dump trucks to transport the excavated material. Drilling rigs, anchors, shotcrete pumps and teleloaders are used underground." By 30 April 2023, the joint venture had excavated more than 300 m on both routes, equivalent to an average of 1.40 m per day. Once the 509 m loose ground section has been excavated, the tunnel will made by blasting, which will make for faster progress.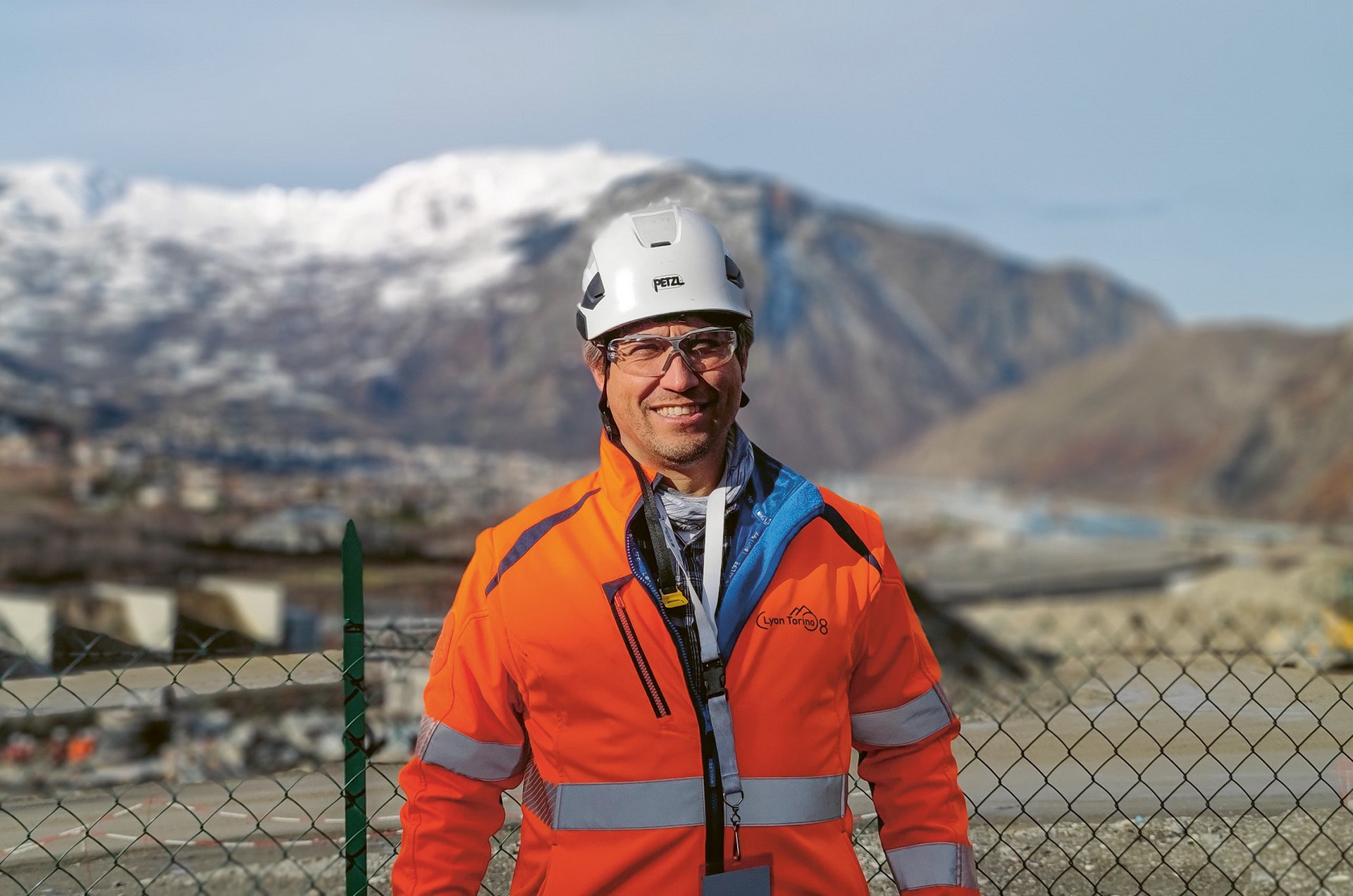 By 30 April 2023, the joint venture had excavated more than 300 m on both routes, equivalent to an average of 1.40 m per day. Once the 509 m loose ground section has been excavated, the tunnel will made by blasting, which will make for faster progress.
A sustainable construction site
Sustainability is an important aspect of the project. As part of the trans-European network, this new Alpine rail transversal will help shift a lot of freight from road onto rail, which will have a significant positive impact on the environment. What is more, the construction site itself is focused on sustainability. Various options were proposed to the client to reduce the CO2 footprint. These related to the design and construction of our equipment, the consistent use of Lean in project management to ensure the speed of progress, as well as the control and monitoring of our consumption. Water and electricity consumption is measured in real time, for example, and 80% of the water used is recycled. The electricity on site is 100% from renewable sources, while light and ventilation are remotely controlled through a centralised technical management (CTM) system to reduce consumption by more than 30%.
Take a tour on TikTok
TELT in focus: If you go on TikTok, colleagues will show you the concrete laboratory, explain the noise protection measures, take you to the sustainably built construction offices and guide you into the new tunnel. The six parts of this mini-series are labelled "TELTC008", which is the name of our construction site. You can also find the videos on the Intranet.
Watch the videos: Implenia (@implenia) Official | TikTok​​​​​​​
Digitalisation is also helping the project keep to the planned rate of progress. The joint venture uses an innovative, participatory approach, allowing it to work more fluently, react more quickly, increase productivity and improve quality. This is done by centralising, analysing and sharing information, and making it available to all the different stakeholders anywhere, any time.