The right look for Implenia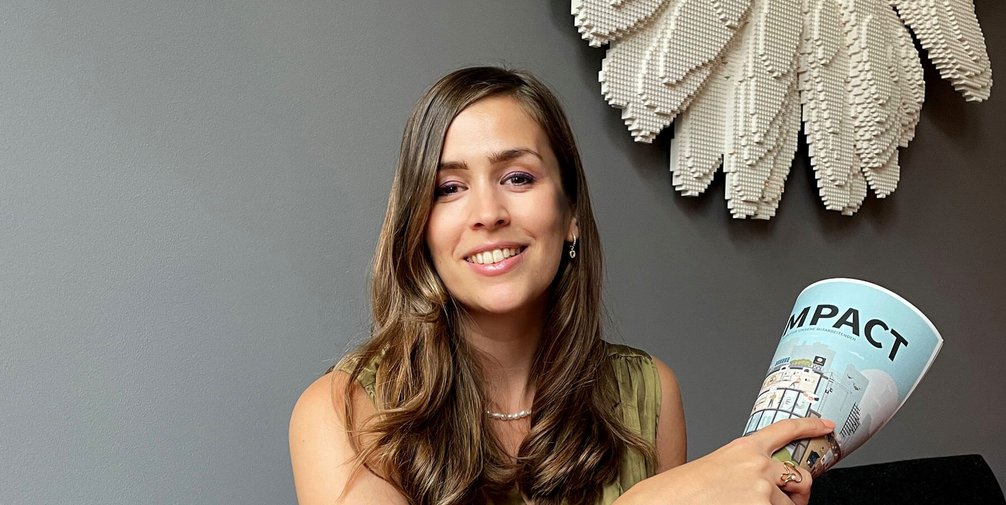 Design is her passion. Gabriela Fleck has known this at least since her school internship in an advertising agency at the age of 14. "I was always good at drawing and designing. But after the internship, I knew: this is my dream job" says the Frankfurt native. Supported by her mentor at the time, she specifically oriented her school and academic career towards the subject of "design".
«The look of the brand must fit the company.»
Gabriela Fleck, Manager Visual Communication
Before joining Implenia in Raunheim in 2017, the communication design graduate worked as an art director at an agency and looked after clients from the financial and logistics sectors. In editorial design, she also lent magazines her very special touch. So it's no surprise that she has been the designer behind Implenia's IMPACT magazine since 2019.
What does a communication designer do at Implenia?
At Implenia, Gabriela is the visual communication manager and is responsible for the visual implementation of many print & digital products.
The topic of video is becoming increasingly important in the construction industry - also in Gabriela's everyday work. "I love moving images and enjoy capturing the emotions and stories behind our great projects and exciting professions in sound and vision," she says. Whether project management and supervision on the film set, storyboard writer or video editor - she is the woman behind many of our videos.
"I am pleased that more and more of our employees are creating their own clips - that is valuable material," Gabriela emphasises. To make these videos a success, she has summarised a number of tips.
It is particularly important to Ela to present the Implenia brand in a clearly recognisable corporate design and with authentic images - to customers and partners, but also within the company's own ranks. "Strong branding reflects the values and uniqueness of the company," she explains. "So, for instance, when we say that we are 'agile', our pictures should not show everyone standing stock-still, but show some action instead."
Gabriela is convinced: "Do what you love and you'll never work a day in your life! Even after five years at Implenia, I look forward every morning to starting the new working day and presenting the Implenia brand at its best with design and branding. "