How are you making sure that Implenia builds sustainably?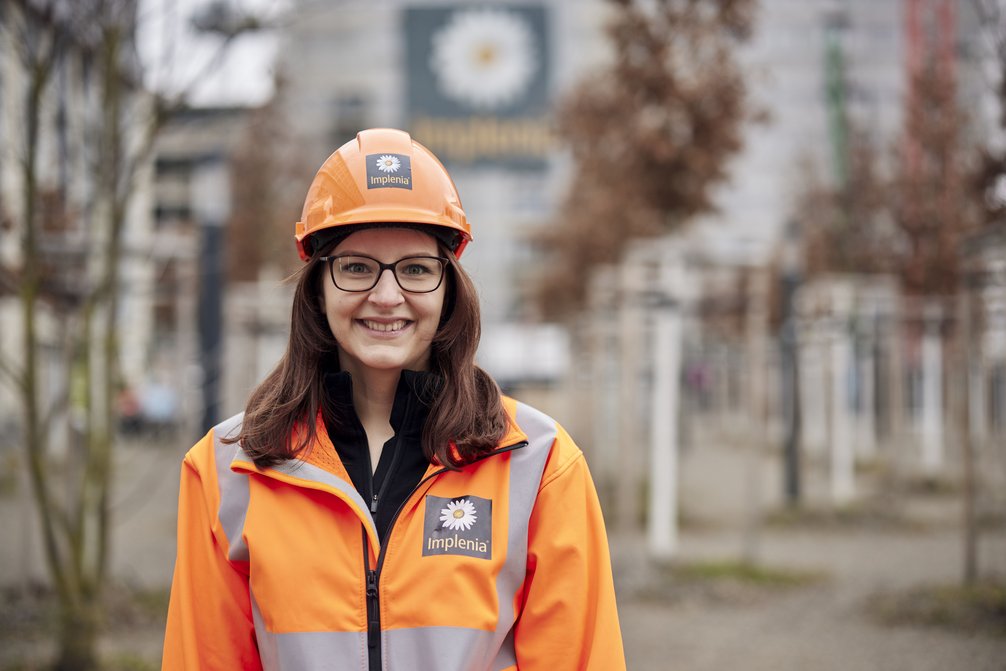 Bernadette, what does a Project Leader Sustainability do all day?
The job is extremely varied, with a huge range of activities: market research on sustainability standards and methods; compiling our sustainability report; providing training for all the different parts of the organisation; and advising our project teams on sustainable construction. I love the variety!
How exactly do you make sure that we build sustainably?
For example, I support the Sustainability Specialist in the Division Buildings in large acquisition projects and in executing plot developments, and monitor the sustainability requirements: Which labels are required? Which criteria do we need to fulfil to get them? How can we best organise the project so that we succeed in this? If clients do not ask specifically for a sustainability concept as part of our bid, we are also proactive in proposing measures to ensure that construction is as environmentally friendly as possible.
How do clients react to attempts to make their projects more sustainable?
Sustainability is an increasingly important issue, but if the initiative does not come from the customer, many are initially sceptical about the proposals. That is where our persuasive skills come in. We need to have done our homework and be able to show them the data: What exactly are the benefits of the measure? What will it cost? Sustainable construction is often not more expensive at all, but people are very hesitant about new methods.
How do you overcome their resistance?
I stick to my guns and try again and again. And I make every effort to try out new methods on specific projects. Being able to demonstrate results helps us to make more persuasive arguments. In Scandinavia, the sustainability requirements are generally higher than in Switzerland or Germany. That means that our teams in Sweden and Norway are constantly piloting new technologies and methods together with our customers. This experience benefits the entire Implenia Group.
What are you proud of?
I am proud that we, a relatively small team, were able to supervise more than 100 projects in various phases – development, acquisition and implementation – last year, and supported almost 20 projects with certification in execution. That was a huge amount of work. Our Sustainability Report is also developing further all the time, and we have ever more data available to prove that our construction is increasingly environmentally friendly. The pay-off comes in our ever-increasing grades in various ratings. We as an organisation can be truly proud of that.
What in particular are you working on at the moment?
As well as the Sustainability Report, I am working on the "Sustainability Academy". We want to anchor sustainability even more robustly throughout the company, and are developing training materials for a huge range of target groups to help achieve this. Our little team is only able to support project teams in some cases and in pilot projects, but Implenia wants all its development and construction to be sustainable. To achieve this, every part of the organisation needs to be committed to the issue, and sustainability needs to become part of our DNA. If the entire team understands how we all benefit from sustainable methods, we can do this.
Bernadette Arbogast
Location: Opfikon, Switzerland
Function: Project Leader Sustainability
Background: Degree in Geography and Land Use Planning, University of Zürich; internship at a traffic planning office; environmental management at leading Swiss bank UBS
Passion: Working together with lots of different people and roles on various topics, in theory and practice
Ambition: To commit the entire company to the issue of sustainability
Motto: Stick to your guns and try again and again!