"Sustainable real estate solutions offer clear added value"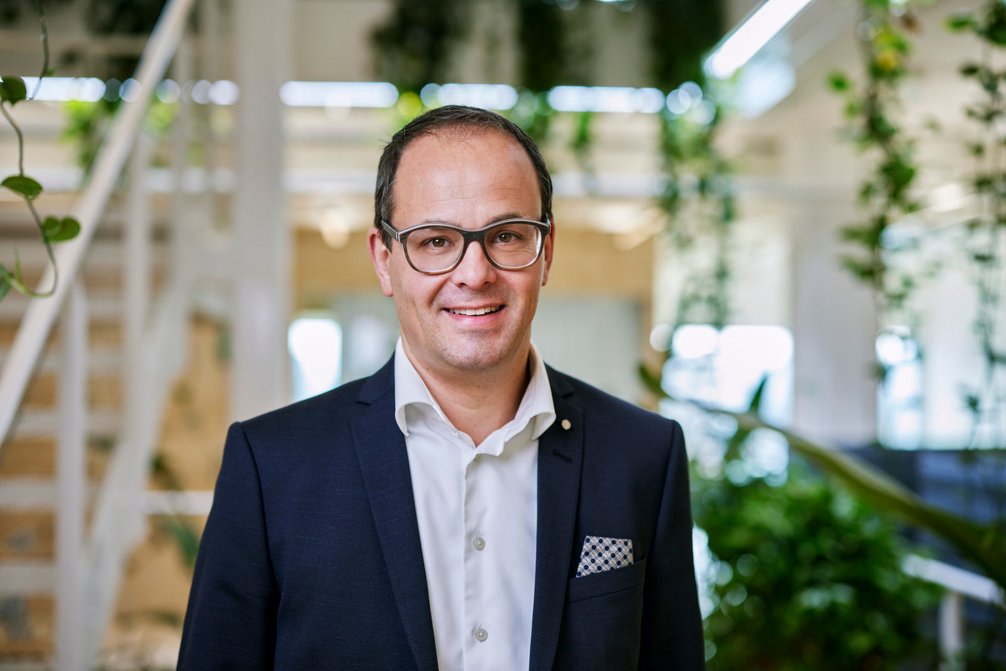 The demands for sustainability and digitisation are obliging the construction and real estate sectors to change. This is producing interesting results, such as the world's tallest all-timber residential building being erected in the Lokstadt neighbourhood in Winterthur. The project finds timber, a proven building material, meeting modern digital planning tools. We asked Adrian Wyss, Head Division Real Estate and member of Implenia's Executive Committee, how these two worlds combine.
Adrian Wyss, sustainability has become a hot topic in the construction and real estate sectors. What do Switzerland's stakeholders need to do to take sustainability into account?
On the road to a more sustainable future, clients and investors need to be willing to innovate, but they also need to move away from short-term financial perspectives. That's because sustainable solutions still tend to cost more than conventional ones, but they also offer clear added value. As a result, clients need a longer-term perspective – namely a willingness to literally invest for the future. Fortunately, experts are now realising that the initial investment, which may be higher at the outset, can be repaid during the building's life cycle by lower costs – such as savings in energy consumption – and higher rental income. That's why the economic evaluation of an investment in sustainable real estate should cover its entire life cycle, from development, planning and execution to operation, renovation and demolition.
"Sustainability is a corporate value that we've been practising on a daily basis for over ten years."
Adrian Wyss, Head Division Real Estate and Member of Implenia's Executive Committee
How is Implenia driving the concept of sustainability forward?
Sustainability is a corporate value that we've been practising on a daily basis for over ten years. Our sustainability report sets out 12 ambitious sustainability goals by 2025, whose progress we regularly evaluate. We're ideally placed to apply our expertise in this area to our own development projects. A vivid example of this is the Lokstadt in Winterthur, where we're adopting a sustainable approach to developing, planning and realising a new urban neighbourhood – predominantly through the use of timber. At the same time, we're aiming for a world record.
A world record?
That's right, our "Rocket and Tigerli" project in Winterthur's Lokstadt encompasses the 100-metre high-rise "Rocket", planned to be the world's tallest residential building in timber. This approach offers a number of advantages: high-rise construction achieves density, which optimises the use of building land. In addition, wood is a renewable, sustainable building material. We're very familiar with this area – we've already built some 1000 apartments using timber construction, with 1000 more to follow. Timber enables efficient planning with BIM and the prefabrication of elements, which translates as reductions in construction time and costs. Plus, the use of wood meets the increasing demand of our customers for net-zero buildings. What's more, timber allows for new, innovative solutions: together with engineers WaltGalmarini Ingenieuren and the ETHZ Federal Institute of Technology Zurich, we've developed a composite timber-concrete ceiling that's now patented and used in our new constructions.
What challenges do high-rise timber buildings present?
We mainly see advantages, namely less grey energy, less weight, the chance to prefabricate elements, the behaviour of the material in the event of fire, and benign properties when it comes to renovating and dismantling. Last but not least, timber offers a healthy, comfortable living environment as well as a user-friendly atmosphere for residents.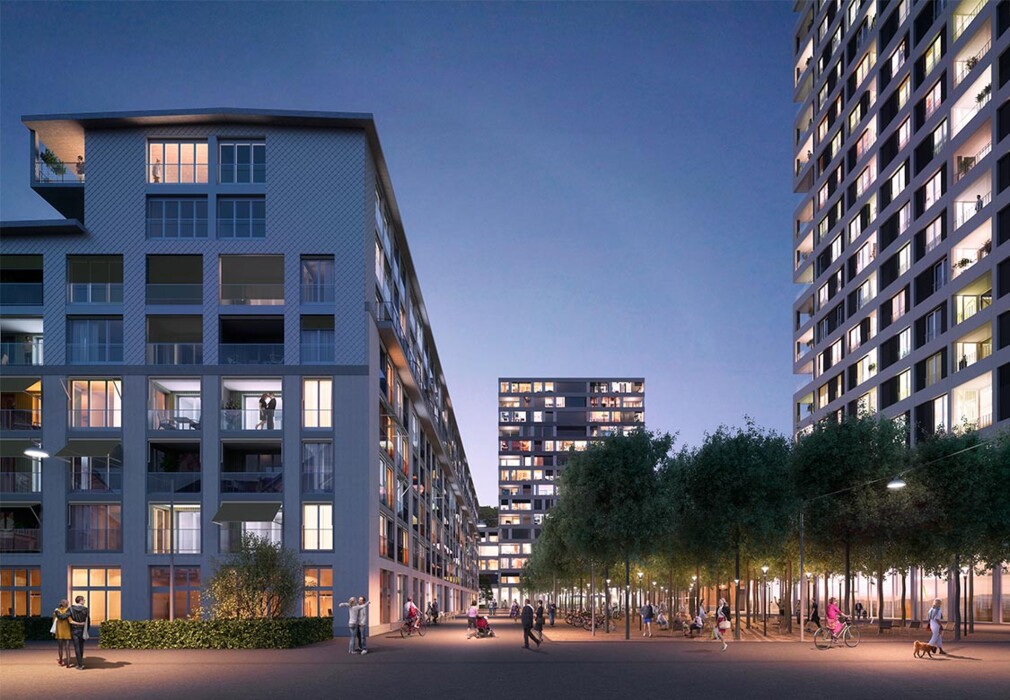 What impact will the Lokstadt site have on Winterthur as a whole?
The influence of the new neighbourhood is considerable: the project exceeds the statutory requirements in terms of sustainability, which are already very stringent. In addition, Lokstadt is already a certified "2000 Watt site". With its proximity to Zurich, established business community, educational institutions and attractive cultural offerings, Winterthur is an attractive, vibrant urban centre. The new neighbourhood fits in perfectly with this overall picture.
The "Tigerli" residential building is earmarked for student accommodation. How does this align with Lokstadt's utilisation concept?
Alongside the focus on ecology, Lokstadt is becoming a socially sustainable neighbourhood thanks to the hybrid use of real estate, i.e. a mixed-use development of residential, working, commercial and leisure/entertainment. In addition to the student apartments planned for the "Tigerli," Lokstadt already has cooperative housing. Both promote social diversity, which is essential for a vibrant urban neighbourhood.
Aside from sustainability, digitisation is a key issue in the construction and real estate sectors. Where are companies in Switzerland in this regard?
We optimise our projects with novel digital approaches to development, planning and implementation. Digital lean construction and building information modelling (BIM) play key roles in this regard: the planning and management of a project are increasingly based on data. It means that contractors can be more efficient, effective and sustainable. Integrating digitisation into Implenia's operational divisions means it becomes a driver of value creation. The construction and real estate sectors used to perform badly in this respect: we're now catching up – it's changing the way Implenia will develop, plan and build going forward. An important aspect here is the greater integration of planning and execution. Based on these considerations, we also want to pioneer the development of standardised, industrially manufactured building products.
The demand for a resource-saving circular economy in industry is growing. Can this principle be applied to the construction and real estate sectors?
Either way, the importance of the circular economy is becoming increasingly apparent from our point of view. As I said earlier, the building's entire life cycle must be considered early on when planning a project. The aim here is to save on materials for every component, to use renewable raw materials, and to rethink material structures and compounds in terms of their future reusability and separability. The overriding principle here is to maintain the value of the material over several life cycles. Modular timber construction is perfectly suited to these approaches. Circular principles are also taken into account in the development of standardised, industrially manufactured building products. Some of our construction sites already practise a circular economy: using semi-mobile gravel plants located on the sites, excavated material is washed, sorted and prepared for reuse on the those same sites. This not only recycles material, but also cuts down on large numbers of lorry movements, which significantly reduces CO2 emissions and costs.
In your opinion, what are the major hurdles and opportunities facing the sector in the medium to long term?
Land-use policy and regulation are major, overarching challenges for our sector. The population is growing, land in Switzerland is finite, and urban sprawl must be prevented. This means it's hard to provide sufficient affordable housing and infrastructure. Our squeezed Switzerland is witnessing a major challenge in terms of thinking holistically about spatial development – a hugely protracted process – without coming under pressure from vested interests. In an approach coordinated with the various stakeholder groups, densification and refurbishment must be facilitated where transport and communication links are good. Ecologically and socially sustainable timber buildings are capable of creating attractive residential environments for a wide range of users.