Nature at our feet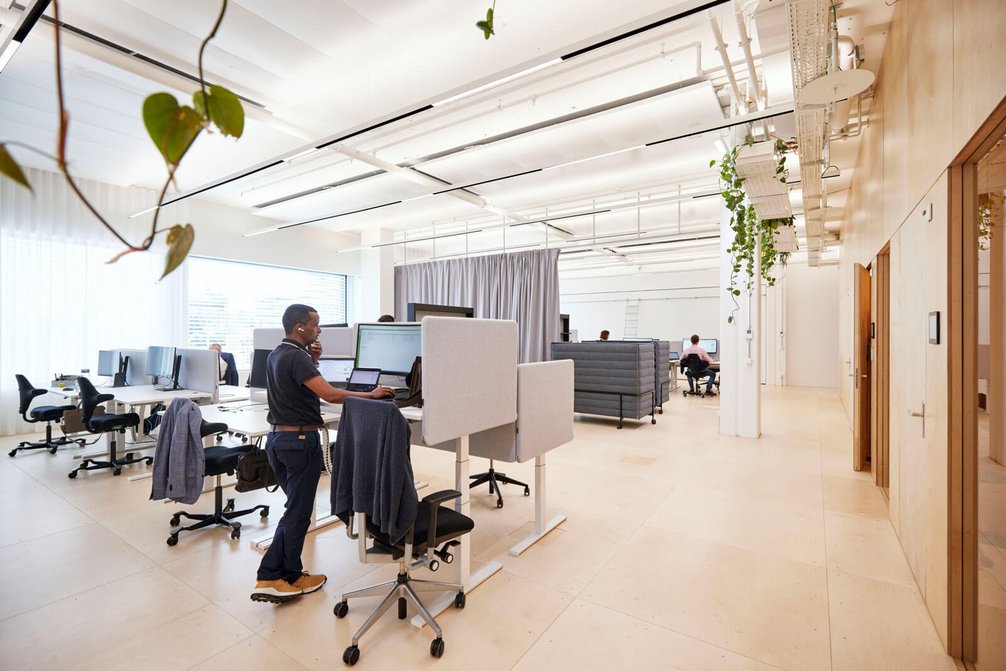 It is not every day that Switzerland's largest construction and real estate service provider moves into new headquarters. The challenges and expectations were enormous from the very beginning – creating a totally new office environment that allows state-of-the-art forms of collaboration. It needed to be well planned in terms of construction yet still aesthetically pleasing. And, given the company's commitment to sustainability, renewable materials should be used wherever possible. Especially wood.
With the building already in place, the planning team was limited to designing the interior. "When we began planning, the interior designers from Studio Hürlemann suggested a wooden floor. Our management loved the idea," explains Stefan Koller, Co-Project Leader on Connect. "Not only is wood sustainable, it also enhances any office environment. And as a leading provider of wood construction solutions, we of course also have an interest in demonstrating our expertise in the field at our own headquarters, too."
Despite all the undisputed benefits of the material, the question of feasibility quickly arose. Wooden floors have existed for centuries, but what an office environment needs is flexibility. In particular, power supplies and WiFi connections need to be available flexibly wherever they are needed. To provide this, large-scale office environments are usually equipped with a false floor – the structural floor, usually made from concrete, is topped with a hollow floor often covered in carpet, under which cables can be laid flexibly. Wooden floors, on the other hand, are laid permanently and stuck down.
"The kind of wooden floor we wanted simply did not exist on the market."
Stefan Koller, Project Leader Implenia Connect
"The reality was, the kind of wooden floor we wanted simply did not exist on the market," explains Stefan Koller. But, for a company that thrives on agility as a corporate value and has been investing in innovation in every conceivable area for many years, that was absolutely no reason to give up. "We are always searching for new, innovative technologies and solutions – and our expertise and size allow us to develop them," he continues emphatically.
So there was no taking no for an answer – and the general planners began the search for a new solution, working closely with the interior designers from Studio Hürlemann and Implenia Timber Construction. One point of inspiration for the development came from a wood floor at the plant of the Austrian crystal corporation Swarovski. This was followed by an intensive product development and test phase, in which the various panel sizes, wood types and attachment options were considered and compared.
The result has literally been at the feet of the more than 600 staff who work at the new Implenia headquarters since September 2021: The (around 7,000) floor elements made from light birch wood, each measuring 120 by 120 cm, cover a total office area of 10,000 square meters and contain 80 tonnes of wood.
The top floor layer, made from birch plywood planks, is attached to the substrate with 12 screws per panel and can be replaced flexibly. Around 10% of the panels have milled openings for cables, which can simply be pulled up through the floor as needed to guarantee the necessary flexibility. "By deliberately choosing screw connections over glue to assemble the floor, we are consistently pursuing the principle of the circular economy," explains Christian Müller, Head of Carpentry.
"We bought almost the entire annual stock of a wood processing plant in Sweden for our production," laughs Christian Müller, Head of Carpentry. Developed by Implenia Timber Construction, the birch plywood panels were produced in Switzerland for Implenia. In order to transport them upwards in the lift at the new headquarters, the team had to develop a new type of transportation box. And the assembly also presented challenges for the team: Twelve screws had to be inserted into pre-drilled holes on site – 7,000 times over.
The first few weeks with the new floor have shown what the product can do. "The wood floor fits into the office environment perfectly, has an extremely high-quality look, and is just as functional as we had hoped," says client Stefan Koller, delighted. "We will see over the next few months and years how it works out under intensive use and high standards for acoustics and flexibility."
"By deliberately choosing screw connections over glue to assemble the floor, we are consistently pursuing the principle of the circular economy."
Christian Müller, Head of Carpentry