Successful bridge building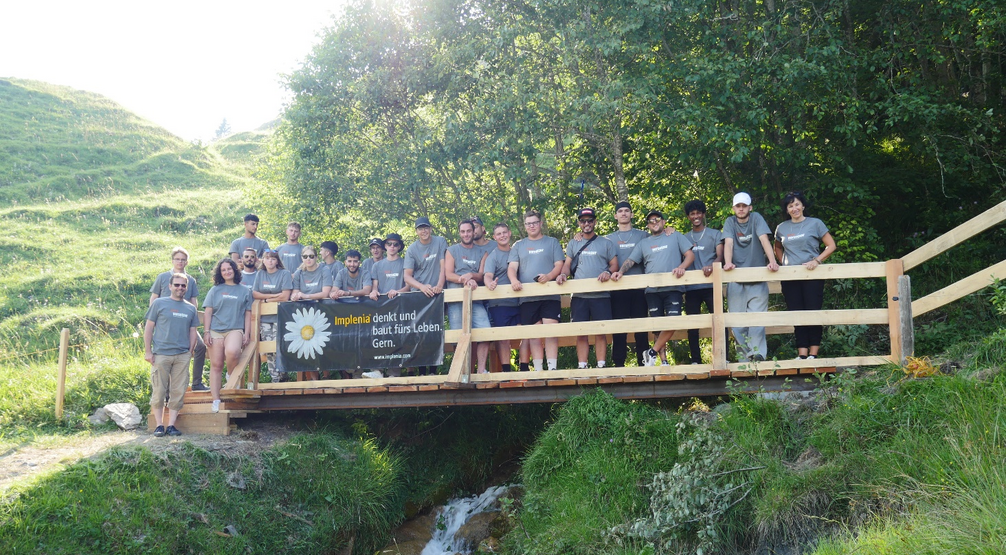 A total of 22 apprentices from all language regions of Switzerland, trainee bricklayers, road builders, woodworkers, carpenters, building services planners, machine mechanics, automotive assistants and commercial apprentices who will start their final year of apprenticeship at Implenia in August 2022, came together in Lumnezia, Grisons, from 18 to 22 July to support Swiss Mountain Aid.
The work that the group had undertaken for a single week was varied. "We built a new bridge on a hiking trail and replaced the fence at the swimming lake in Davos Munts. We also put up huts for firewood and a bench," says Anita Läderach, who is in charge of the Swiss apprenticeship team and who organised the programme again this year together with vocational trainer Adrian Geissmann. They were supported by foremen Luca Cervasio and Nicola Jovanovic.
What are the benefits of the social project week?
"We train around 130 apprentices throughout Switzerland, supported by 35 supervisors," Anita continues. "The apprentices of a year are employed in very different places and actually only meet three times in this constellation: during the introductory week at the very beginning of the apprenticeship; for the social project week in the summer before the final year of the apprenticeship; and then again at the end of the apprenticeship."
So when Implenia Switzerland sends apprentices to work for good causes in remote mountain regions for a week every year, it's not just an opportunity to put what they've learned into practice. It also creates networks for their future working lives, which a large proportion of the young people continue with Implenia after they graduate.