From the construction site to controlling, with two apprenticeships at Implenia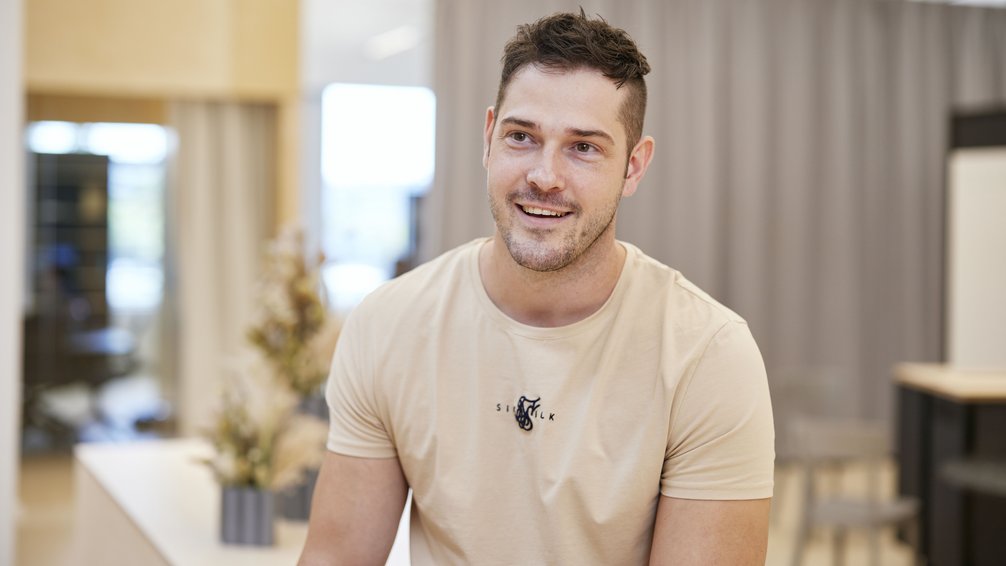 My name is Gregor Thürlemann and I am 30 years old. When I began my apprenticeship as a carpenter at Implenia at the age of 15, I had no idea what was waiting for me. Today, 15 years later, I know that it pays off to leave your comfort zone, accept a new challenge and, above all, to never give up. And it helps if your employer supports you in this.
Apprenticeship number 1: Carpenter
In 2010, I officially completed my apprenticeship as a carpenter. Implenia offered me a permanent position in Timber Construction, and I began work as a carpenter. My career would have been perfect, if my compartment syndrome and chronic periostitis in my shins had not constantly interrupted my work. The first signs came when I was 19. Even after long periods of rest, months of physiotherapy and an operation, the pain returned as soon as I put any weight on my legs. When I was 25, my doctors recommended that I should stop working on the construction site if I was to have any chance of recovery over the next few years. It was very hard to accept, but I had to get used to the idea of a new job.
«I would have to leave construction if I was to have any chance of recovery.»
Gregor Thürlemann, Junior Controller
What should I do now? What type of work can I see myself doing? Where do I see myself in five years? How do I get there? And how does this career path work at Implenia? These were just a few of the dozens of thoughts flying around my head. It was the start of a difficult process, both for my employer and for me.
Looking for the next goal
While I was waiting to start my new career, I was given the opportunity to move to the Implenia Timber Construction office. One of my managers generously suggested I go to construction management school, but I wanted to get away from construction site operations. What I wanted was a 100% office job in a financial department, so I applied to start a commercial apprenticeship at insurance companies, banks and real estate companies – all without success.
«When I first heard the suggestion of a commercial apprenticeship, I was sceptical.»
Gregor Thürlemann
My health counsellor at Implenia, Silvia Günter, helped me to remain patient and, in early 2018, suggested I try out a commercial apprenticeship at Implenia. I was sceptical at first: Would I have to order bricks, tidy up the archive and empty the dishwasher? But what did I have to lose?! I took the opportunity and spent a day at the Implenia headquarters in Dietlikon in March 2018. After that, I knew I wanted to take on a three-year commercial apprenticeship.
Back to school
My new apprenticeship felt odd to start with. Three years ahead of me, 27 years old, most of what I learned at school long since disappeared from my head, and all my classmates ten years younger than me. I quickly got to know the office and was soon given more challenging tasks. Starting at the Wirtschaftsschule KVZ vocational school was a lot more difficult. The level was very demanding for me as a simple "builder", especially given how many years it had been since I was at school. But I did not let something like that get me down. I knew what I wanted to achieve. I was keen to learn, got to grips with the material, and got at least a B in every subject in my first semester.
«I knew what I wanted to achieve and got at least a B in every subject.»
Gregor Thürlemann
I soon saw how much I enjoyed the work and getting good grades. At the end of the first semester, my main teacher approached me and said that I should switch to the "M" course, the commercial apprenticeship with professional maturity, as that would be more my level. I was delighted – and my vocational coach and the team were right behind me. Compared to the basic apprenticeship, the standard on my new course was very high. I had to catch up on all the work from the first semester, as well as revising for the current exams. On top of that I had to fit in running my home, family and colleagues, hobbies and time to rest. It was a lot of work – but I was so motivated.
Wonderfully diverse training
The diversity of the commercial apprenticeship is just wonderful. At Implenia, apprentices get to choose a different department each semester, getting to know lots of important fields. I deliberately chose departments that would allow me to see as much of the company as possible. Acquisition & Sales, Master Builders Zürich, Tunnel Construction, Finance, Human Resources and Marketing & Communications. In Summer 2021, I completed my apprenticeship as a management assistant with Swiss accreditation and professional maturity.
«Now I know all about what happens on the other side of construction.»
Gregor Thürlemann
I learned a huge amount of academic and business knowledge over the two-year apprenticeship, and had the ideal opportunity to apply it in connection with the departments I visited. Now I know all about what happens on the other side of construction. I began my new role as Junior Controller in September, and am also studying for my part-time bachelor's degree in Business Economics at ZHAW, focusing on Accounting & Controlling.
When I look back at my 15 years at Implenia, including two apprenticeships, the first thing I feel is gratitude. Gratitude for all the fascinating tasks I have undertaken in the various departments, even while I was still an apprentice. I have seen so many great projects. For the faith that my managers had in me when they encouraged me to undergo further training. And for the fact that, as a large corporation, Implenia brings together such a wide range of activities under one roof. It never gets boring.