Safety is always an issue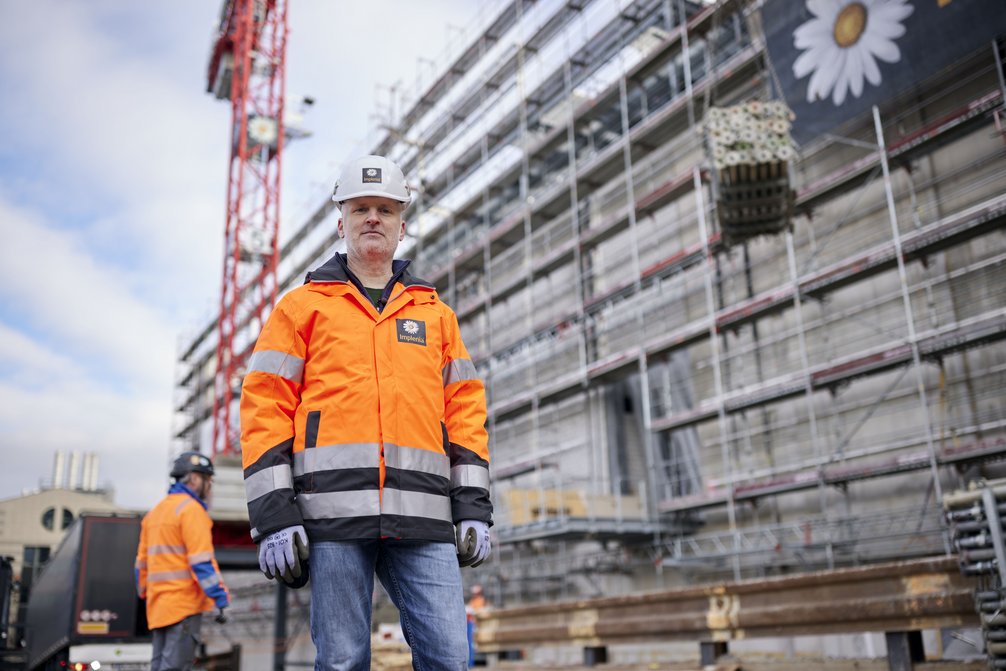 "The goal is clear: We aim to achieve zero accidents at work and have an unconditional commitment to occupational safety," explains Felix Akeret. At the same time, Implenia's top safety chief knows that putting this into practice remains a challenge, especially given the constant pressure on time and costs at construction sites.
"I worked as a project leader for a long time myself, so I know how tempting it is to take short cuts: Do we really need that safety railing? Can we quickly put up a ladder here and avoid using a lifting platform for the installation? We all sometimes think this way at home – it is a very human reaction," says Felix Akeret. It means that he needs a clever approach if he is to counteract this dangerous complacency and addiction to optimisation. But how?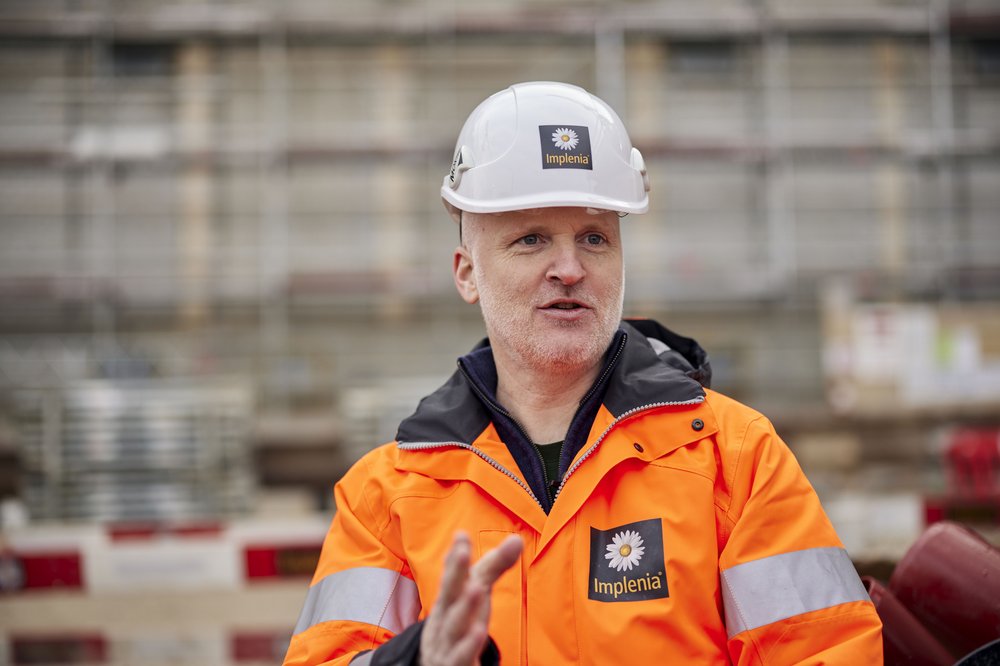 "I worked as a project leader for a long time myself, so I know how tempting it is to take short cuts."
Felix Akeret, Global Head Safety
Essential: the safety network
Firstly, safety is a team sport. "I need to be able to rely on a whole network of safety experts," he explains. "We employ 7,700 people in seven countries. All our construction and office sites have their own internal safety specialists, and many have external ones as well. I am in direct regular contact with around 15 safety officers. We discuss specific requirements, experience of measures, and any incidents that do occur, so we all benefit from the experience of the entire network."
Sweden and Norway, for example, have traditionally had stricter requirements than Germany and Switzerland – Implenia teams certainly cannot bid for usually state-run infrastructure projects without a detailed safety concept. Their experience benefits the entire Group.
International corporations demand higher standards
But there is also pressure from another source: Major international customers in particular demand higher safety standards than those that apply in this country. "An example: When we build data centres for major American customers, there is often a complete ban on reversing on the entire site," Felix Akeret. The measure makes sense, he says emphatically. "Traffic on construction sites is a huge safety risk. So many large and small machines in such a small space – you have to be so careful to prevent any incidents."
Any use of a ladder also has to be approved by the foreman on data centre construction sites – they can only be retrieved from the locked storage with a signed form. Sensible precaution or excessive bureaucracy? Felix Akeret laughs. "Of course people often say that all the paperwork is an annoyance and they have better things to do. On the other hand, in Switzerland alone, there are 6,000 occupational accidents involving ladders every year. When the safety risk is so obvious, it is worth taking a closer look. If used properly, the written form forces you to justify the use of ladders and to examine the risks in detail."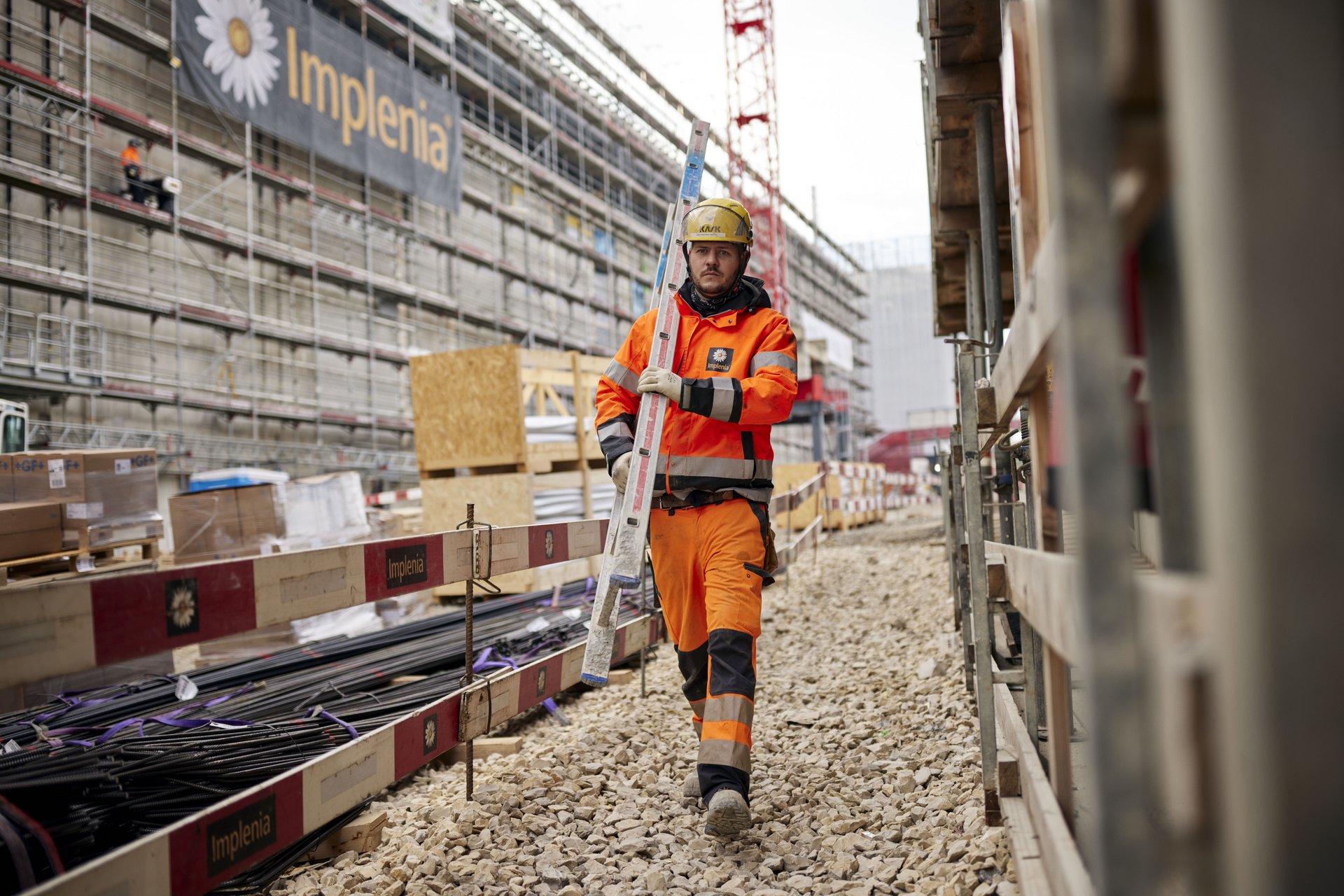 Who pays for the added safety?
It is worth not only following the rules and provisions conscientiously, but also working to achieve the safest possible solution wherever possible. Does that mean that all Implenia construction sites are about to introduce one-way systems and ban the use of ladders? "To meet requirements like that, the construction site has to be designed for it from the beginning. Otherwise, the space available makes it impossible," notes Felix Akeret. "Sometimes additional measures also lead to higher costs. Someone has to pay for it – a tricky issue, especially where margins are as tight as they are in the construction industry. How much is added safety worth? And who pays for it?" He adds: "It would help if the clients demanded higher safety precautions from the start, as is already the norm in Scandinavia. That would mean that companies like Implenia, who want to do more than the minimum, were no longer at a disadvantage when bidding for tender."
"It would help if the clients demanded higher safety precautions from the start. That would mean that companies who want to do more than the minimum were no longer at a disadvantage when bidding for tender."
Felix Akeret
Maximum demands cannot always be pushed through in practice – nor are they always necessary. But Felix Akeret is certain that companies need to do more than the minimum. "Just referring to the statutory requirements is not a good idea. The law does not know the specific circumstances on the construction sites, nor does it exempt us from thinking for ourselves. At Implenia, any of us can say STOP if something feels unsafe, whatever the law or the regulations say. Not only that, but we want to constantly improve – and you can't do that just by implementing minimum standards."
The Implenia Health and Safety Award
Implenia awards this recognition to construction sites, teams or individuals who have made a special contribution to occupational safety and health protection. In addition, the award is an ideal platform for sharing ideas and learning from one another.
This year's H&S Award will be presented in September 2022. A panel made up of the safety officers from the various regions and countries will select three finalists from all the entries submitted.
Do you want to nominate yourselves or someone else? Fill in the online form by 31 March 2022 at the latest. Your regional safety officer will be happy to answer any questions.