Accelerating your career through international mobility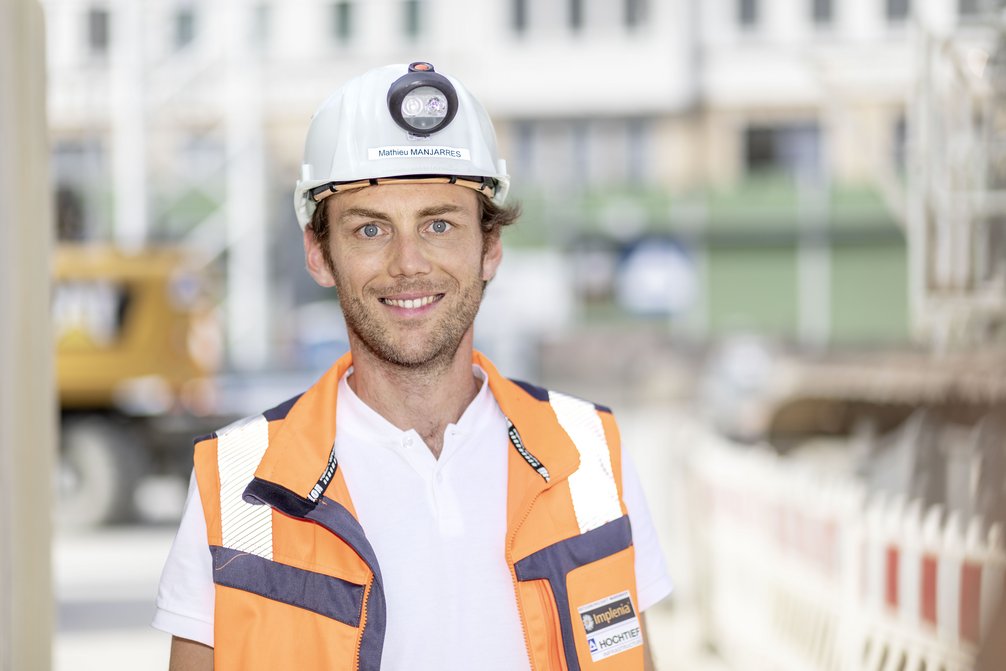 Image: Christoph Schroll, HOCHTIEF
What were your motives in joining Implenia?
I joined Implenia France in March 2019 as a construction manager to take charge of the excavation work for the extension of line 11 at Rosny-sous-Bois. I have always been very interested in large infrastructure projects. This assignment on line 11 was the logical next step in my development, both from an operational and personal point of view. The subject was very complex technically, delicate in terms of planning and had to be part of a multi-site project with a high level of co-activity.
"Joining Implenia France was the first step towards an international career, with a plan to continue the adventure in Germany."
Mathieu Manjarres
But joining Implenia France was also the first step towards an international career, with a plan to continue the adventure in Germany in the near future in the background. I discussed this with the management team in France very early on.
What made you want to work in Germany?
I have always wanted to work abroad. The richness of different cultures and the possibility of speaking other languages have always attracted me. I chose Germany for family reasons: My wife is Bavarian, so it allowed us to be closer to her family and for me to develop my German skills. This mobility to Germany corresponds to the whole family's desire for change. Being able to join a large infrastructure project in Munich allows me to combine my private life and my professional ambitions perfectly.
Interested in international career opportunities?
Implenia job offers Career at Implenia - Implenia AG
Discuss any internal transfer project with your line manager first!
Why do you think it is important that Implenia offers such an opportunity?
The possibility to work in France on a very interesting project and then to move to another interesting project in Germany: For me, this was the main reason for joining Implenia. These bridges between the different countries are a real advantage for a Group: They offer opportunities for employees who are looking to discover not only new technical challenges but also new human experiences and new cultures.
How did Implenia support you in this process?
I was supported both by the HR and the Operations departments of Implenia France. The HR department, in cooperation with their counterparts on the other side of the Rhine, helped to establish contacts and prepare the ground for the move. In addition, the administrative issues concerning the move and the departure from France (end of the French employment contract, among others) were addressed in detail. Operations facilitated the rather operational contact and also provided the necessary feedback on my profile and application to their German counterparts.
How did your integration into your new team work?
I was very well received in Germany. The HR department was always ready to listen and made themselves available as much as needed. I joined the major project Marienhof as QSE manager. This is a different approach to a project, but one that allows me to acquire new skills and adapt to my new working environment.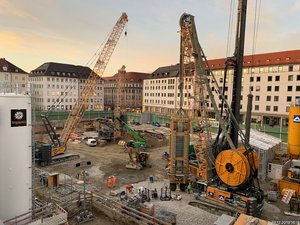 A once-in-a-century project: After more than fifty years, a second suburban rail line is to be built in the heart of Munich to relieve the strain on public transportation. The Implenia- HOCHTIEF joint venture is building the new underground Marienhof station directly behind the city hall.
What challenges did you face?
The language. My level of German was insufficient to be fully comfortable in my daily life. So understanding and being understood were the biggest challenges. 10 months after my arrival, it is getting better even if I still have a lot of room for improvement! In any case, my interlocutors have always been very kind and patient with me.
What benefits do you get from this experience?
Being able to speak another language, experience another culture and meet new people is a real pleasure every day. I also find it very interesting to discover another way of working, other techniques used, etc. Even though the difference between Germany and France is not that great. If I had to do it again, I would!
What advice would you give to an employee who wants to develop within the Group?
I would advise them not to hesitate to try experiences outside their country of origin. A change of scenery, discovering new organisations, new techniques and new ways of working are all positive experiences in a career. And even though change can provoke anxiety, the friendliness I encounter on a daily basis and Implenia's support for mobility are just as reassuring!
Any other information you would like to share?
If you are interested in a mobility experience, I would advise you to first target one or more potential projects, to guide the HR and Operations departments in making contact. If you have local support, don't hesitate to talk to them to gauge local needs. And finally, throughout the whole process, remain proactive, as it is above all a question of your will and your future!
"Offering international mobility creates a win-win situation"
Implenia France is a relatively small organization, with all the benefits that go with that. The company faces strong competition from large groups in the French labour market, however. Odile Gisclard, Human Resources Director at Implenia France, is convinced: "The advantage of being an agile company offering our talented employees mobility beyond our borders is a real opportunity in this war for talent."
In Odile's experience, employees with an international profile join the company seeking to benefit intra-Group mobility. "Each motivation is different, and beyond a professional project, it is also necessarily a life project. We offer personalized support for this internal mobility to the employees involved, in collaboration with the operational teams and according to the needs of the projects. Most of the time, this development is part of a long-term career path and commitment to Implenia."
On a more global level, this strengthens cooperation between the various countries. Odile underlines: "We also receive applications from the group that are interested in projects in France and enrich our experience and our teams. It's a win-win situation."