Stress is the big enemy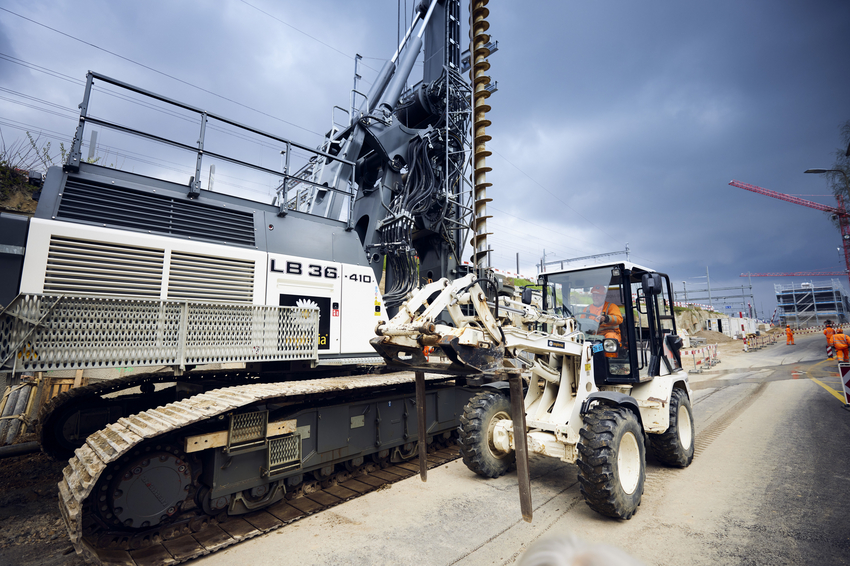 Liestal, Switzerland: Up to 140 people work on the huge construction site every day
This is where you'll find the really big machines: rotary drilling rigs, excavators, dumpers, trucks, cranes – along with up to 140 employees each day on the 2.5-km-long construction site around Liestal train station, by the tracks and right into the built-up area of the town. Moving soil, concreting the retaining walls and building rail lines, platforms, underpasses, bridges and car parks. Implenia has been working on this CHF 115 million project since June 2019; completion is scheduled for 2025.
Four track expansion project in Liestal, Switzerland
Project: Expansion of 2.5 km of SBB rail line from two to four tracks. Station upgrade, new platforms, adjustments to infrastructure
Construction period: 2019 to 2025
Size of contract: CHF 115 million
As in all construction, efficiency is a central issue at Liestal. But how does the issue of safety fit in? Walter Wolf, Head of Market Northwest Switzerland/Bern and Construction Unit Northwest Switzerland, and his team have had very low accident rates for years: "Safety comes first for us. That's been the case for many years, with top management setting the pace and driving the safety agenda hard. Safety is more important than profit, more important than punctuality. Anyone who doesn't want to commit to Safety First can leave."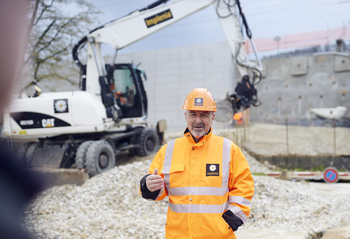 "Safety comes first for us."
Walter Wolf, Head Northwest Switzerland/Bern Market and Construction Unit Northwest Switzerland
Safety is a leadership issue
This is not just an empty slogan. Irresponsible behaviour is simply not tolerated at Implenia and is a grounds for sacking, Walter tells us. "I have first warned and then had to sack very good workers for precisely this reason. Everyone knows the score now." At every stage managers must make sure there is no compromise in adhering to safety rules, even if this is difficult or it makes the manager unpopular, he emphasises.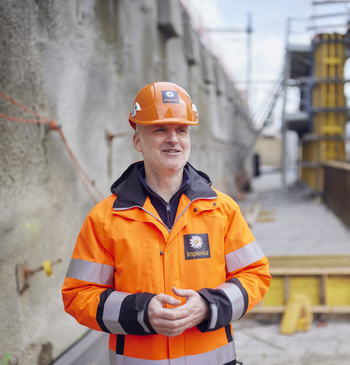 "There is zero tolerance on breaking safety rules. There is a clear directive on alcohol, for example, and this has to be enforced without compromise!"
Felix Akeret, Head Safety
Felix Akeret, Global Head Safety at Implenia since February 2021, is in full agreement: "Safety is a leadership issue. Take our Safety Rule No. 1 for example: If you suspect there is danger, you must stop yourself and others – immediately, firmly and respectfully. This is easier said than done, because you put yourself on the line. So you have to practise – practise saying stop and practise complying. This requires a fundamental change in the way the organisation thinks."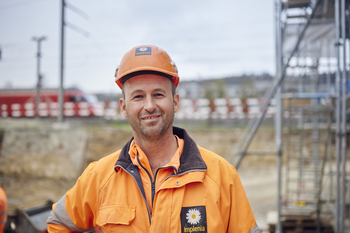 "It's good that the foreman tells us precisely what we are doing and what aspects could be dangerous."
Rifat Hasanai, Group Leader
Saying stop is established as part of the culture on the Liestal construction site. Rifat Hasanai, who works in all kinds of teams whenever help is required, doesn't mince his words: "If something is not safe, I say so – and refuse to continue." How do his bosses react to this? "Positively. No problem at all!" This hasn't happened by chance. Like Walter Wolf's whole team, David Sauerborn, who runs the construction site, has safety right at the top of the agenda. "The crucial thing is for the atmosphere to be right and to trust people to look after themselves and others."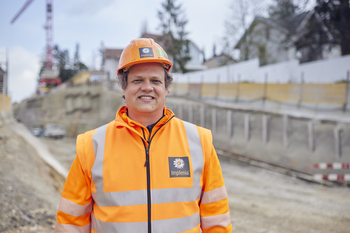 "The crucial thing is for the atmosphere to be right and to trust people to look after themselves and others."
David Sauerborn, Site Manager
Jörg Häller, Safety Officer at Engineering Switzerland, is also responsible for Liestal. He has identified the main enemy of safety: "When they're under time pressure, people look for shortcuts and that's when accidents happen. The only cure is to take the time needed to do the job properly. If I see a dangerous situation on the construction site but then just quickly say: 'Watch out!', I might avert the immediate danger, but it doesn't change what happens in future. I have to give people the opportunity to see themselves and the situation from the outside. Then they can have a rethink and do it differently next time."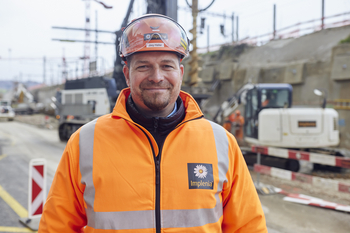 "I tell my people: if you're playing in goal at ice hockey, you want to be protected!"
Jörg Häller, Safety Manager Civil Engineering Switzerland
Routine can be dangerous
As well as time pressure and stress, human complacency can also compromise safety. Complacency is what makes people drive without a seatbelt or work with machinery they haven't learned to use properly. Other recurring issues include missing barriers and signs, and equipment that hasn't been cleaned. And, paradoxically, being too much in a routine can create as many safety hazards as chopping and changing too much. "People get used to things," says Felix Akeret. "If you successfully ignore a risk, you lose your fear."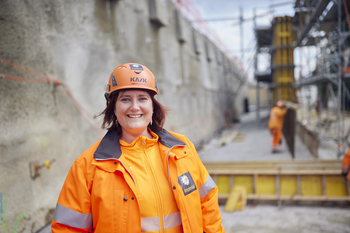 "Our people are very committed. If I point out a safety risk, they sort it out straight away."
Laurence Spaar, Site Manager
That's precisely where good managers are needed. Walter Wolf tells the story of an argument with a client: "We were working in a road tunnel and closed one of the lanes. I wanted to put up a crash barrier to stop cars hitting our people. The client didn't have any readily available and wanted us to keep working. But I said 'stop', even though the site managers threatened to throw us off the job." It shouldn't have got so far, but he refused the order: "I know that Implenia will support me if I make a decision like that."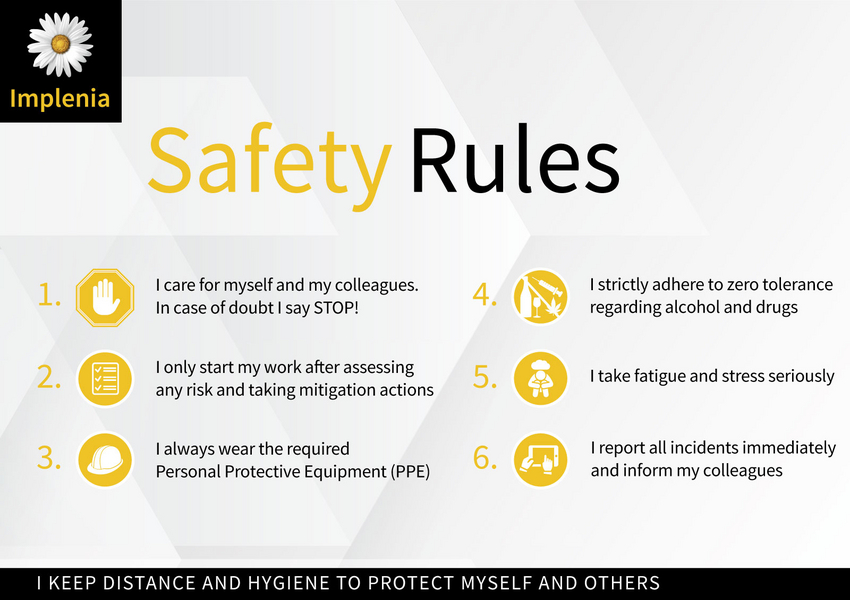 Felix Akeret believes that safety only works properly if managers take their responsibilities seriously and if people act consistently and are risk-aware and show moral courage. "Our accident numbers have been falling for years. That's great, but we can't rest on our laurels: there are still accidents happening with serious consequences and we can't accept that. Safety culture varies greatly across the Group and the main thing we are fighting against is long-entrenched ways of thinking, on site and in the office. The journey we're on is a long one, and we have to keep at it!"
Images from the four track expansion construction site Liestal