Technique, endurance and strength put to the test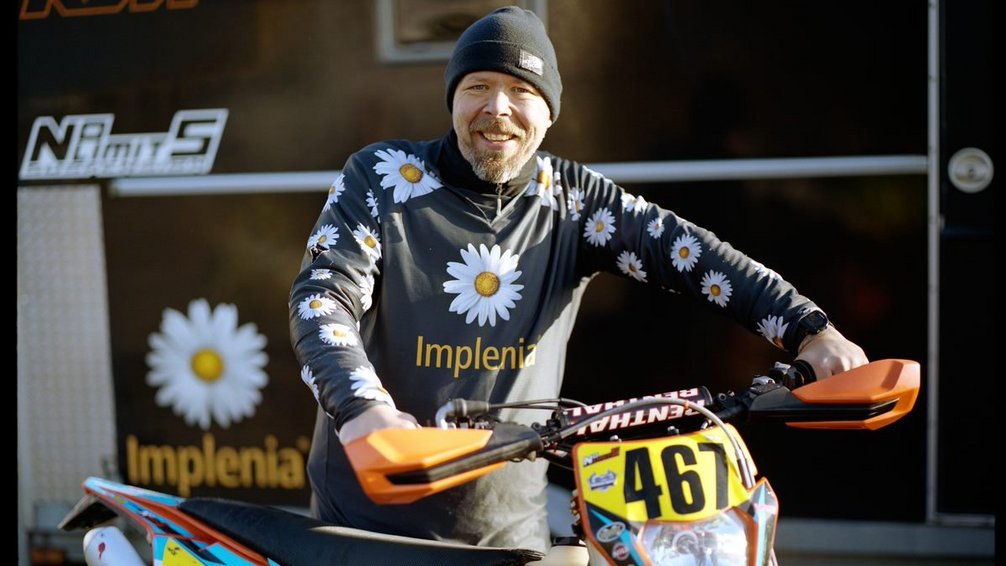 Hello Jan! Tell us, what is enduro?
Enduro is off-road motorcycle riding in the woods or on enclosed terrain. The sport is practiced year-round, on all types of surfaces (rocks and roots, rocky hills or crevices, sand and gravel, among others), and in all weather conditions. Enduro is an endurance sport where races last from 1 to 24 (!) hours. To put this in perspective, you can compare it to motocross where heats are only 2x20 minutes.

Enduro has the highest number of practitioners in Sweden with its 9,000 active licensed riders, and the races are run in two variants: Type 1 involves racing on a marked course with time cards, time controls, transfer sections, and special stages. Special stages can also be part of the transfer section, for example, the Swedish Championship (SM). Type 2 refers to racing without time controls, usually laps around a closed course, starting with one or more riders simultaneously, such as the Gotland Grand National or various local races.
The motorcycle resembles a regular motocross bike, but there are some differences, including the fact that an enduro bike has lights and softer suspension. The enduro bike is often inspected and approved for road use, and there is a different engine registry that allows for longer rides.
How long have you been riding?
I rode motocross when I was younger and bought an enduro bike just after turning 39. So, this year marks 10 years!
How did you become interested to begin with?
My brother bought an enduro bike, so I borrowed one and joined him for a ride. It turned out to be the most fun I had in years, and since then, I've been hooked! I gained a completely different quality of life when I started training and riding enduro. It's refreshing to push myself to the limit and clear my mind.
Why enduro among all motorsports?
I think the sport has many different positive aspects. It's a technical sport that requires endurance, strength, and tests you mentally – a lot of determination and willpower. It's suitable for almost everyone, and the camaraderie within the sport is excellent. Everyone is welcome, and people help each other regardless of their skill level. In the pit area, world champions mix with beginners.
How much time do you estimate you spend on the bike?
During an average week when I'm not competing, I do two to three training sessions on the bike and two to three sessions at the gym. I often do several short intervals of 3-4 minutes for speed training and longer sessions for races (60 minutes and up).
Implenia chose to sponsor you. What does this entail?
I receive support for travel and expenses at the Swedish Championship events this year since the races are spread out across Sweden, in Östersund, Söderhamn, Enköping, and more. It often adds up to many days on-site, so the sponsorship allows me to prepare much better. Now I have time to inspect the track before the race, which gives me much better conditions to perform well.
Do you have any specific goals you want to achieve?
The primary goal is to stay injury-free (no fractures) and feel good. In a sport prone to accidents, one can only hope for the best and prepare as well as possible. I also aim to earn my first points in the Swedish Championship, but I know that everything needs to align... It involves five hours of riding where you need to perform really well on the stages. Often, just a few seconds separate competitors after a full day of riding. My best placement has been just one position away from earning points, so on a good day, I can make it there! I'll do my very best!
Thank you for the conversation, Janne. We wish you the best of luck this season!
Update: Janne has already, after the first two Swedish Championship events of the year, achieved his goal and secured his first Swedish Championship points! Strong placements in both races resulted in points. Go Janne!