Obstacles for an adrenaline rush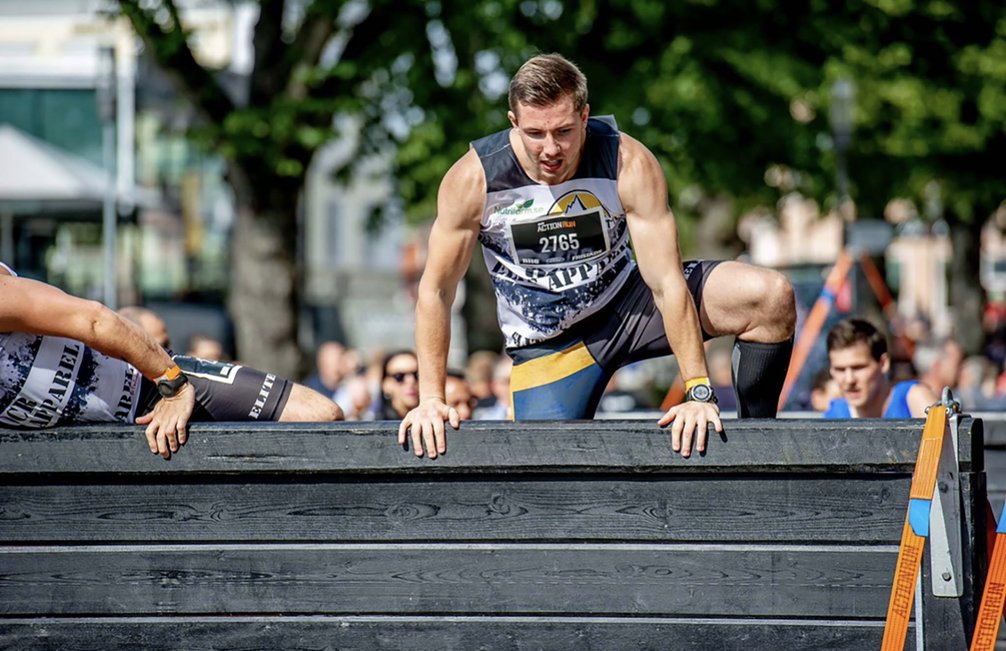 Marcus Gelotte works as a buyer in project Sofia and before that was responsible for purchasing our project SN91 Slussen. In his spare time, Marcus competes in the sport OCR (Obstacle Course Racing). OCR competitions usually consist of about 5-15 km of running in difficult terrain with obstacles in the form of wooden walls or scaffolding, arm wrestling, rope climbing, carrying objects, swimming and the like.
"I got hooked on OCR when I tested the sport and participated in my first competition in 2018. Before that, I competed and trained in several different sports, including football, boxing, badminton, but I think OCR is clearly the most fun," says Marcus.
Like Implenia, Marcus likes challenges and OCR is a challenging sport where you have to see opportunities and act quickly, even in accordance with Implenia's values. Implenia Sweden has decided to support Marcus in his competitions and will during the year follow and tell how Marcus is doing in OCR on the Portal and in our social media.
«I like the sport because it is challenging both physically and mentally, it is fun and it gives me an adrenaline rush.»
Marcus Gelotte
"I like the sport because it is challenging both physically and mentally at the same time as it is fun and it gives me an adrenaline rush. Many times you have to prepare to be unprepared for what the terrain and tracks will look like, even the weather plays a big role. There has been a break because many competitions have been canceled during the pandemic, but now the season can finally start for real", says Marcus.
The sport and the competitions require that you have the physical strength and stamina to be able to run and overcome the various obstacles, which can often be technically challenging. Depending on the difficulty levels of the competitions and the obstacles, it is far from everyone who manages everything. Being strong in the upper body is an advantage when you have to hang or mostly use the upper body in certain obstacles. Being strong throughout the body makes it easier to carry heavy objects, climb over walls and run up ramps and the like.
Marcus has qualified and will go to the European Championships in Italy in June to compete in his age group. After that, he will also participate in the Swedish Championships in July. We cheer for Marcus and keep our fingers crossed. Hey Marcus, go go go!