New recycling platform closes the material cycle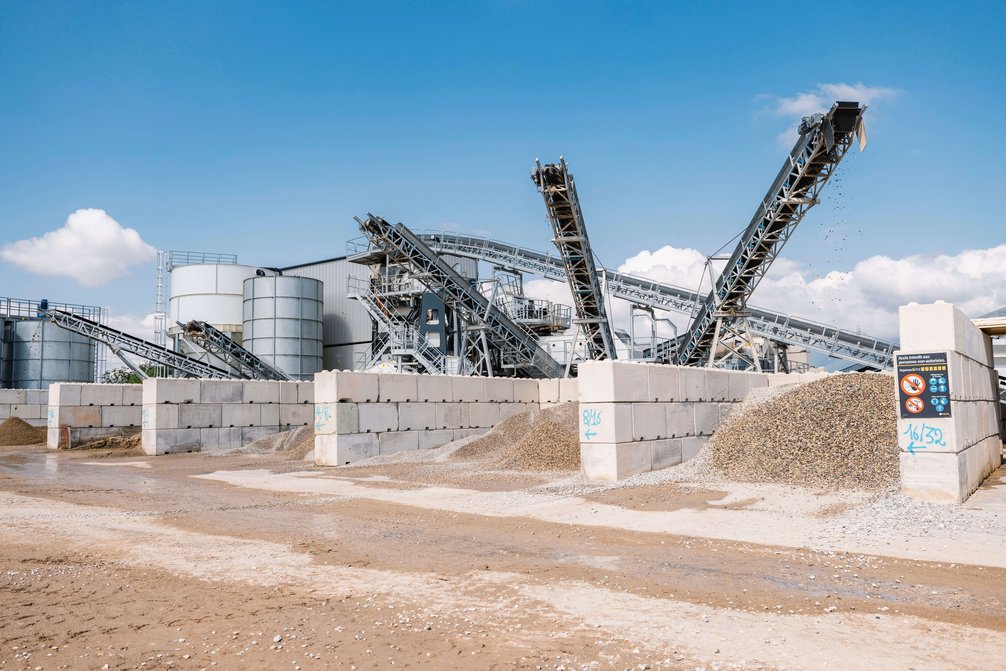 The figures are overwhelming. Over 80 million tonnes of waste are generated each year in Switzerland, equivalent to around 10 tonnes per capita. More than four-fifths of this is material created by excavation and demolition in the construction industry. Meanwhile, the construction industry also has a high demand for raw materials.
"Given this background, resource conservation and waste reduction are a central goal for us," explains Pierre Razurel, Junior Project Manager Sustainability at Implenia. "We are always looking for ways to promote recycling and close material cycles."
The company recently found just such a solution in the town of Satigny in Canton Geneva. Implenia set up a platform for processing materials from excavations and demolition on an industrial site by the River Rhone in 2021.
The platform acts as a hub where waste material from surrounding construction sites is delivered, crushed, sorted, washed and stored for later recycling. The site includes storage areas and a powerful washing and screening system for uncontaminated excavation material.
"The washing and screening plant can process up to 150 tons of material per hour," explains David Naoux, manager of Implenia's production companies in Geneva and Vaud. "The platform also recycles demolition materials such as old road surfaces and construction rubble." Once prepared, the aggregate is used for various applications, including making asphalt and recycled concrete.
SAPA SA, a subsidiary of Implenia, has built a state-of-the-art asphalt plant on the site, which greatly reduces the need for transportation. The plant can produce up to 240 tons of asphalt per hour. It can handle high proportions of recycled material, while the built-in hot gas generator ensures low emissions.
SAPA's next plan is to install 2,800 square meters of photovoltaic panels to generate renewable electricity, some of which will be consumed on the site itself.
Implenia has invested 20 million Swiss francs in the project, thus helping to close the regional material cycle and reduce the need for transportation. The aim is to produce 150,000 tons of gravel and 25,000 tons of asphalt every year. The approved processing methods, which come with strict controls, ensure that the recycled building materials meet the highest standards.