At Munich's heart: Marienhof station
The S-Bahn railway network in the Bavarian capital Munich is one of the largest in Germany. Up to 840,000 people travel on it every day, covering more than 20 million kilometres every year – equivalent to about 500 times round the world. The main line was opened for the Olympic Games in 1972, with the expectation that it would handle only around 250,000 passengers a day. The system has definitely reached its limits now – especially since all trains on the network have to pass through a single double-track tunnel beneath Munich city centre. To relieve this bottleneck and ease pressure on the whole network, Deutsche Bahn has commissioned an approximately ten kilometre "Second Main Line" between Laim station in the west and Leuchtenbergring station in the east.
Beneath the Old Town
Marienhof station, the central stop on the new line, is being built by Implenia as technical lead in a joint venture with Hochtief. The construction site is located directly under Munich's old town, behind the city hall (Rathaus) and directly next to the world famous Dallmayr coffee house. The Frauenkirche church is also very close by. The new station is around 40 metres below the surface, deeper than any previous tunnel made beneath Munich city centre. This depth is necessary for two reasons: firstly to protect the surrounding buildings, and secondly because the structures have to pass below the existing U3 and U6 lines. The 210-metre-long platforms will be on the lowest level, beneath an approximately 14-metre-high concourse floor and then a mezzanine floor with entrances and exits to the new S-Bahn station. Passengers will be able to change at Marienhof onto lines U3 and U6.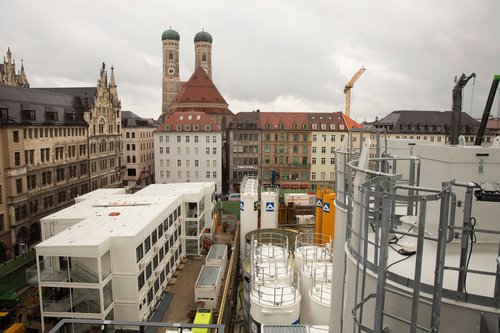 The central station structure beneath Marienhof square is being built using the diaphragm wall/cut-and-cover method. Wells are being sunk to take away groundwater and thus make excavation and drilling safer. The platform areas beneath the perimeter structures, and the passages to the U3 and U6 lines are being built by tunnelling out from the main station structure. Injections of various types are being used to compensate for any settling caused by the tunnelling and dewatering, which could otherwise damage the surrounding buildings and U-Bahn structures. After roughly nine years of construction work, Marienhof station is scheduled to open in 2028.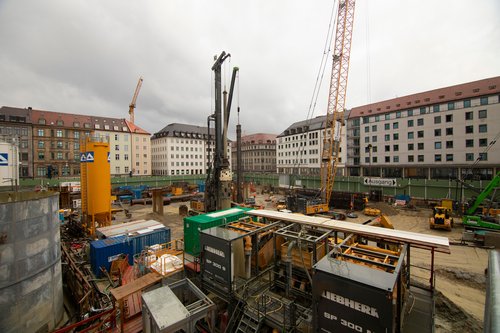 Logistical challenges
Space is very tight on the construction site: in fact the site itself is not much bigger than the finished structure will be. Around 140 trucks come to the construction site each day, in part to remove the 270,000 m3 of spoil. Owing to the sensitive built environment around the station, construction work has to proceed with great care and extensive monitoring. Jens Classen, project manager at Implenia: "This complex infrastructure construction project requires highly specialised technologies in special foundations, tunnelling and concrete construction. And the traffic situation presents us with enormous challenges, because we are right in the middle of Munich's city centre. We have to work round the crowds of pedestrians and cyclists as well as all the traffic caused by residents and delivery vehicles. This is why we need the combined expertise of all the joint venture partners."