IPD: pilot project launched
The initials "IPD" have been heard increasingly often in the real estate industry of late. But what is IPD and how does it work? Implenia has launched a pilot project to implement "Integrated Project Delivery" and test it on real-life properties. An overview.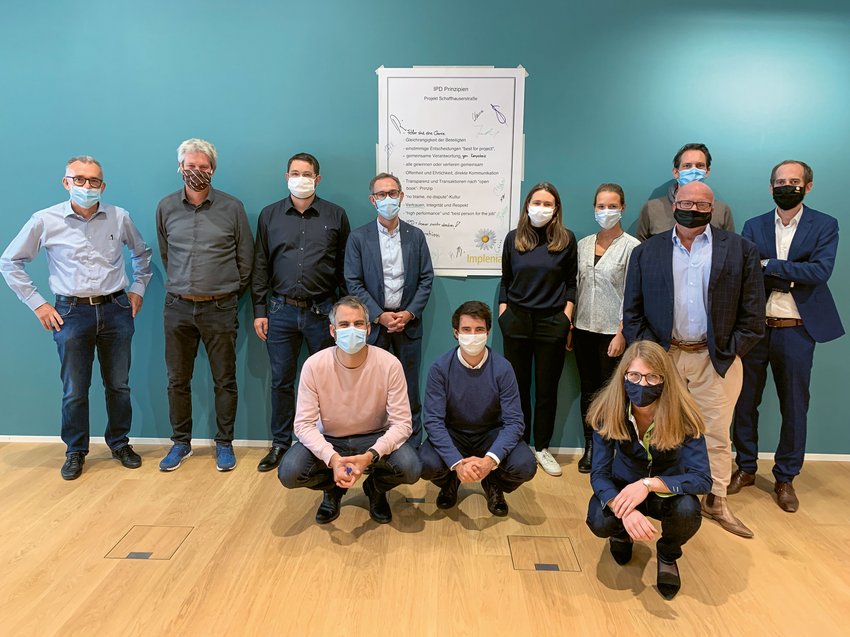 New mindset in the real estate industry
Cost overruns, delays, loss of quality, inefficient planning and execution, disgruntled investors, purchasers and users – the list of typical challenges faced by the property industry is long. Implenia wants to promote a transparent, goal-oriented and partnership-based way of working and has launched a series of pilot projects that use the IPD approach. It has just started a new project to build a multifamily dwelling on Schaffhauserstrasse in Zurich.
IPD, Integrated Project Delivery, is still uncharted territory for many. Katja Lässer, Implenia Project Manager for the pilot project, says: "Initial discussions have shown that a lot of clarification is still needed." Carolin Baier, Lean Construction specialist, adds: "Our aim is for Division Real Estate to initiate and implement IPD projects in future. Division Buildings, as the people actually doing the building work, should be actively involved in integrated projects and be able to position itself in the market accordingly."
What is IPD and what are its benefits?
IPD stands for Integrated Project Delivery. This approach seeks to create a project environment that encourages collaboration, innovation and value creation. It also includes elements of the Lean Management philosophy. The aim is to increase the efficiency of real estate projects and improve results.
Five equally important core elements characterise IPD:
Early involvement of stakeholders: continuous collaboration between client, planners and builders from the start to the end of the project.
Joint risk and income strategy: performance-related and equitable compensation for all parties involved in the project: "everyone wins or everyone loses".
Joint project management: the entire project team works as anintegrated whole with equal rights and shared responsibility.
Multiparty contract between the project team and client: clear rules for collaboration by all parties, covering culture, organisation, methods and processes, as well as the compensation model.
Liability and project insurance: liability exclusions prevent conflicts of interest and facilitate a trusting working relationship.
IPD has obvious benefits for investors in real estate projects and so for Implenia's customers: they can expect better risk management, more accurate cost projections and greater deadline security, all of which produces better overall results.
How is the pilot project working?
After an intensive preparation phase, a kick-off workshop was held at the end of September 2020, followed by an assessment to test the professional skills and ability to collaborate of future project participants, including the architects.
Once the team has been put together, multiparty contracts will be negotiated and signed. Project participants will be physically working together in the "co-location" from the start of the validation phase onwards, though current circumstances mean that opportunities for digital collaboration are also being explored. During this phase, target values are being refined, costs planned and different drafts compared.
Thanks to the early collaboration between everyone involved and to the application of BIM and the principles of Lean Construction, a high degree of detail is being reached in the validation phase and subsequent planning phase – which is a prerequisite for smooth execution.