The new beating heart of Morges
Implenia is building the "Îlot Sud" project right next to the medieval walls of Morges in the middle of the town's popular station district. The "Southern Island" will be the new beating heart of Morges town centre, combining elegant modern offices and sustainable homes with boutique shops in lofty arcades.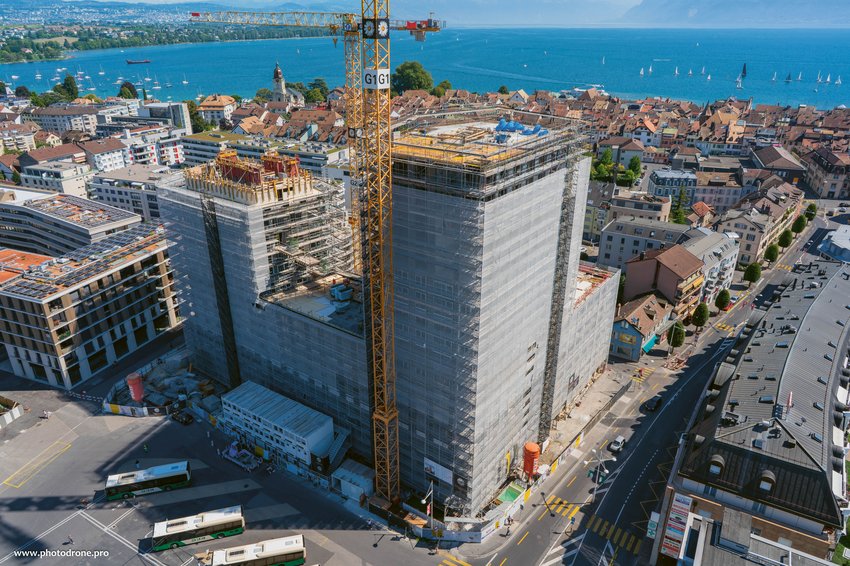 Îlot Sud has been designed as a place for meeting people and exchanging ideas, with shops, state-of-the-art office space, 162 comfortable apartments – from studios to 5.5 rooms – most of which offer breathtaking views of the lake and the Alps beyond, a treelined courtyard and generous public and private parking space.
Sustainable throughout
The building is Minergie-certified and, thanks to its state-of-the-art design, guarantees excellent energy efficiency and environmental standards: it fulfills sustainable construction criteria for resource consumption, harmful emissions and mobility. Most of the roofs are equipped with solar panels, parking bays feature battery charging stations for electric cars, there are 350 bicycle parking spaces, and an innovative system uses lake water as the source for heating, hot water and cooling.
The first tenants are due to move into the roomy commercial and office spaces in summer 2021, while the light and airy residential units will see their first occupants in the second half of 2021. There is lots of work to do before then, and Implenia still faces several challenges: the hardness of the ground, proximity to the water table, the complex facade technology and the lack of space in the town centre. But the Lean approach means that all these and other challenges are being mastered – which you can read more about in the box.