Implenia is part of the wooden construction boom in Winterthur
"Haus Furrer", part of our "KIM" site development project, is one of the modern timber structures we are building in Winterthur. With more than 200 apartments, plus commercial space on the ground floor, this is as much a pioneering project as the neighbouring "sue&til" development.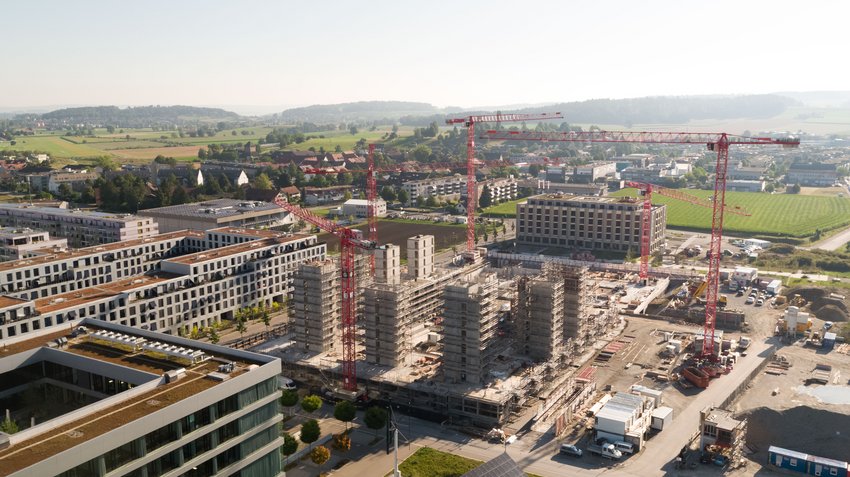 Implenia is building a pioneering new project in the Winterthur neighbourhood of Neuhegi: apart from its basement floors, ground floor and stairwell, Haus Furrer is being built entirely of wood. "Wood is increasingly being used build buildings these days," says René Lutz. Our project manager is working on his second major project based on the sustainable building material, and he has gathered a lot of experience along the way – especially on the sue&til development, which is Switzerland's largest timber-built residential development and which stands just across the street from Haus Furrer.
One-stop shop
Haus Furrer is a One Company project: from development and conception through to planning and construction, everything is being done by Implenia's divisions. The on-site team of one planning manager and three construction managers ensures that the work is progressing well and on schedule.
Swiss Life were impressed: it came in as project investor in June 2019, acquiring 208 apartments on seven floors, ranging in size from 2.5 to 5.5 rooms, as well as six commercial units on the ground floor. The project owner is aiming for Minergie-P certification, with strong thermal insulation, a ventilated facade and a roof-mounted solar power system.
2,600 tonnes of wood in six stages
The first of six phases of wooden construction has been underway since the end of July. One advantage of the vertical building technique is that tenants can move into the completed sections while the next section is still being finished. The first residents will be moving into the first phase along Sulzerallee in October 2021.
Our carpenters still have a lot of wooden elements to install before then: 2,600 tonnes of wood in total. The timber comes from Southern Germany and Austria. Individual wooden elements are entirely prefabricated, mostly at Implenia's depot in Rümlang. They are then delivered to the site shortly before they are scheduled for installation. The planning takes longer than with conventional construction, because the elements are only produced once the building has been planned down to the last detail. "But this makes it much quicker to actually put the building up," says René.
Model room to test noise protection
With high-ceilinged rooms and visible ceiling elements throughout the development, special attention has been paid to noise protection to ensure residents feel more comfortable. The SIA requirements are the same as for conventional concrete construction – though some of the empirical data for wooden structures of this size is lacking. The acoustics are based on measurements made using reconstructions.
This applies in particular to the controlled ventilation provided by the facade ventilators. For acoustic measurements and general structural tests, Implenia has built a model room in Rümlang which includes these facade ventilators. Another important technique to ensure acoustic requirements are met is the installation of 10 cm-thick layers of bonded chippings on the raw wooden floors.