It used to be very difficult for Claudia Cremerius to get to work. She walked on crutches from the car park in front of the office building to the stairs, which she then climbed step by step to the next floor. But things are a little easier now thanks to her colleagues and management at Implenia Schalungsbau (Formwork Construction), who worked together to build a lift for Claudia Cremerius.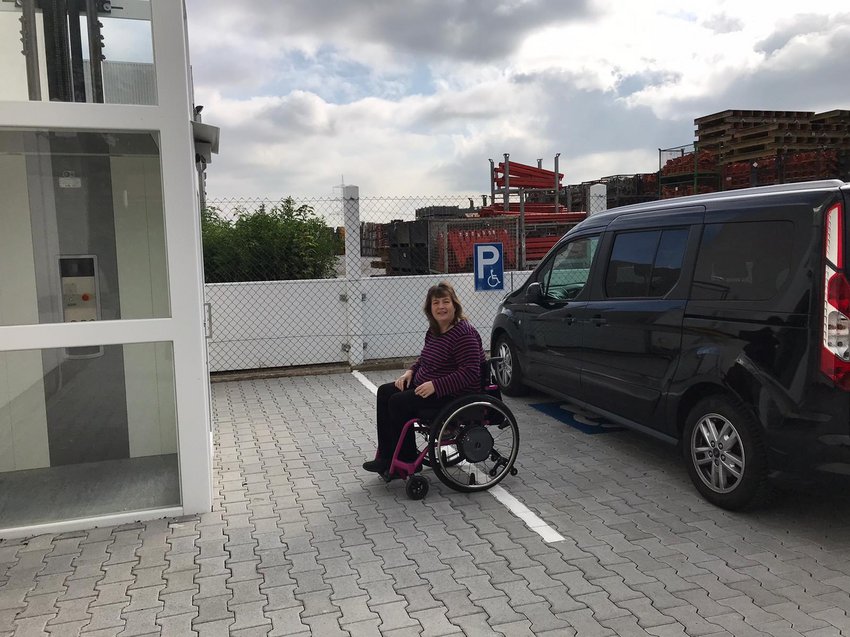 How it happened
Claudia Cremerius has worked for Implenia Schalungsbau for many years. She started in September 1990 as a trainee construction draughtswoman. She has remained loyal to our company ever since, only taking a three-and-a-half year break to train as a technician. Since then she has worked as a designer in our Bobenheim-Roxheim office in Germany. Some years ago she was diagnosed with multiple sclerosis, a chronic inflammatory neurological autoimmune disease. The disease continues to progress gradually, making it more and more difficult for her to walk. "My colleagues have always had my back. They've always tried to help me, which is really lovely," Claudia Cremerius tells us.
The managers realised that it was becoming increasingly difficult for her to cope with the stairs. It soon became clear that something had to be done. The idea for an external elevator was born. The first job was to check the legal situation since Implenia only rents the office building. An external structural change was not going to be straightforward. But following a discussion with the landlord BBV Systems, another company in the Implenia Group, it was clear that the elevator would indeed be possible. Work started in September 2019: a base plate had to be built, and a lot of work had to be done on the paving and on breaking through the external wall before the actual installation of the lift could begin.
All the work was completed by April 2020. And now Claudia Cremerius can drive her car right up to the lift, get herself into it, and then take an easy ride up. "Goal achieved," says Thoralf Löster, a member of management. "Of course we were going to help. We were glad to do it and it has definitely been a relief for Mrs. Cremerius." Claudia Cremerius is absolutely delighted with the lift: "It's made everything much simpler. I'm really happy that my colleagues devoted so much time and effort to the lift and to me."