Implenia uses drones on all its projects in Norway. Drones make it easier for us to plan, create a safe work environment and save time. They are reliable, fast, easy to use and can collect a great deal of data within a few minutes. They are used before, during and after the construction phase, and they provide us with information for subsequent documentation.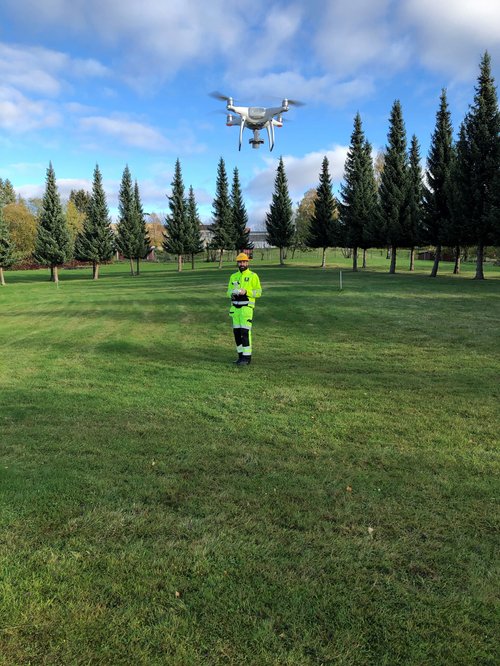 We have several different drones at Implenia Norway that we use for different tasks. We can use them to take sharp, detailed photos and videos that help us track how work is progressing and make precise decisions based on up-to-date data. They also allow us to produce accurate maps of the construction site, so we no longer have to rely on incomplete data and plans. As well as making videos and point clouds we can produce models and enhance our structural calculations.
Drones are an outstanding tool for various reasons: they are cheap and can gather all the data we have just mentioned in only 15 minutes. They are very easy to use and in most cases they can be flown by our surveyors themselves, so there are no additional costs. Bjørn Heggestad is a surveyor at Implenia Norway. He is a drone specialist and coordinates drone use by our businesses in Norway. Thanks to their expertise, our team is always on the ball with things like new regulations. "Every one of our drone pilots has to do the training before they are allowed to fly one. We use smaller and cheaper drones for the training," says Survey ManagerMarius Svendsen. "Using drones on our projects helps us build better quality structures." He adds that the drone videos are also used as a visual aid when communicating with all the people involved in a project. Everyone can then see for themselves what's been finished and what still needs to be done.
Marius believes that it's well worth investing in affordable drones for our projects: "We use cheap, widely available drones that anyone can use, such as the Dji Phantom 4 Pro or the Dji Mavic 2.0." Drones might be very cheap to buy, they are our most valuable and most reliable measuring device. And if something goes wrong they are not expensive to repair.
We use special software to process drone recordings. This lets us fix a reference point on the ground (a "Ground Control Point" (GCP)) so we can place the recording in its actual position in the coordinates system. The software creates both orthophotos (rectified 2D images), as well as point clouds that can be used for structural calculations and tests. With these images, we can for example calculate the quantities of gravel in a quarry and decide whether we need to produce more for the road we are building.
An example of drone deployment: Project K11 in Bergen
Planning the phases: At K11 in Bergen we use drones to model a three-dimensional snapshot of the active area on specific days during the project. "This is very helpful when we're planning the next phase," says BIM manager Anders Loven. "Modelling allows us to visualise our ideas and communicate them more effectively to our client, who can then work with us to find solutions. This makes the solutions better, which ultimately delivers a better margin for the project."
Construction cost management: Orthophotos are an extremely valuable source of documentation for construction costs. Drones let us see everything that has been done on the surface, which gives us a very simple, digital way of determining costs. The images from drones save us a huge amount of work and resources.
Interdisciplinary studies: Drones are also good for interdisciplinary studies. They give the client a better visual impression of construction plans. Example: A client can see directly from the photo that his or her chosen solution is not actually optimal. Everyone involved in the project will have a better understanding of how to accomplish the next stage if a photo taken in the middle of the construction process can include a visualisation of what is scheduled to be built next. By looking at a snapshot that combines the real world and the planned work, everyone can agree on exactly what the project's current status is. This makes for a more constructive approach to the kinds of challenges that always arise on complex infrastructure projects.