Smart scanning. Made by Implenia.
What do you do if the plans and drawings for existing buildings have been lost, or are not up to date, or if there's only a limited time to take measurements on site? René Kreil, a civil engineer at Implenia Instandsetzung in Erfurt, knows these problems only too well. So he has developed a clever digital solution, which is now available to Implenia and external companies.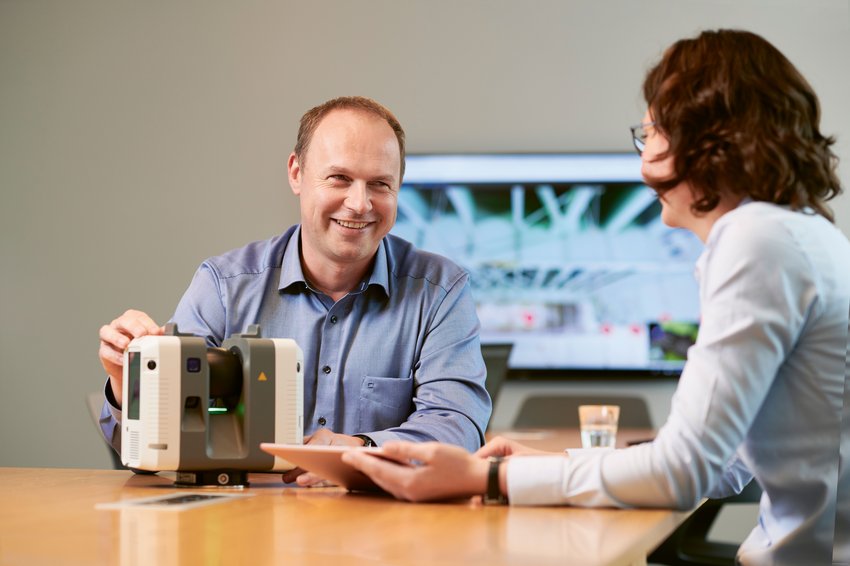 From idea to implementation
He also kept finding in his work that measurements were not always accurate, which led to extra work and delays later on. "So I wanted to create an end-to-end digital process that would cover everything from taking photos and measurements on site, to tendering and billing. I wanted to improve the accuracy, but also improve the way everyone involved in the project works together," says René. After several attempts with a special 3D camera and a few setbacks, he finally achieved his breakthrough with a laser scanner. This let him produce a 3D photo view of whatever he was recording – and a 3D picture says more than a thousand words. Any interested party can then take a look at the image from any angle on their PC; they can also zoom in and out, remeasure and move from location to location. It's also possible to generate 2D drawings, which can then be imported and processed in the iTWO planning management system. "So you no longer have to make measurements by hand, then enter them into an Excel spreadsheet and then type them into iTWO," says René happily. He was given support for his project by the Implenia Innovation Hub, a platform that encourages and supports our employees to develop their ideas into innovations and so create added value. René's scanning solution is at the second of the three Innovation Hub stages ("blue box") and has already been given a name: RealitySite.
Architectural landmark as pilot project
The first property to be scanned digitally was the Hyparschale, one of the most famous buildings in the German city of Magdeburg. We are currently renovating its distinctive roof, which is made up of four hyperbolic paraboloids. Three more Implenia projects are now also using the system: the school sports halls in Erfurt, the Mülheimer Bridge in Cologne and the silo system at the cement plant in Karsdorf (Saxony-Anhalt).