Acting sustainably – in all areas
With our ongoing "Sustainable Office" global initiative, we are taking various steps to promote sustainability at our office locations. The primary focus is on energy, resources, waste and mobility. We have run similar initiatives in the past for our building sites and yards.
Implenia has been following a sustainability strategy since 2009 as it seeks to meet its social and environmental responsibilities in all areas. An essential element of this strategy is the effort to reduce CO2 and the other environmentally harmful emissions produced by our activities. This applies just as much to our yards, production facilities and other premises as it does to our construction sites.
"Our work on construction sites obviously affects the environment, but so do our office-based activities. It may be a smaller impact, but there are still a lot of small things we can do that cumulatively have a big effect, helping us reduce CO2 emissions and stopping us wasting resources," says Rolf Wagenbach, Head Sustainability. The "Sustainable Office" initiative helps employees make their day-to-day office lives more sustainable, while also encouraging sustainable thinking in other areas.
Wide variety of measures under way or being planned
"Sustainable Office" is a global initiative for office locations, with measures relating to energy, resources, waste and mobility. These include awareness-raising campaigns for employees, analysis and proposals for improvements at locations, and a series of pilot projects that started in June 2020 and should run till the end of 2021.
We have already successfully implemented some measures: bicycles and e-bikes have been available for employees to borrow at our offices in the Zurich region – Dietlikon, Wallisellen and Oerlikon – since June. Similar initiatives designed to promote healthy and sustainable mobility are running in other parts of Switzerland, as well as in Sweden and Germany. An animated film has been made to explain in clear and simple terms how with just a little effort every employee can contribute to sustainability in the office, or while mobile working, or privately at home. Being more sparing with heating, and getting the ventilation right can make a difference, for example. Further tips on everyday sustainability measures of all types can be found on the Sustainable Office pages of the Intranet: things like avoiding disposable products, thinking twice about printing, and separating waste.
And the global sustainability team is planning further campaigns. Larger office locations will, for example, be receiving their own handbook and an action plan with measures for a more sustainable office. Site-specific plans will then be ready for implementation from 2021 onwards. Work is also underway on a more detailed and more comprehensive catalogue of measures with background information and supporting material. This will include, for example, standardised pictograms for waste management, FAQs for waste collection and advice on more in-depth matters such as replacing LED lights.
Sweden already has a sustainability handbook called "The Green Office". Sites that comply with the rules set out in "The Green Office" receive a certificate that can be proudly hung on the wall. Two Swedish office locations, Stockholm and Gothenburg, and a handful of project offices have already earned the certificate. The criteria for evaluations are being made stricter with every audit so that sustainability can be continuously improved. Therese Ronnkvist-Mickelson, Sustainability Manager Sweden, reports that things are going well: "We've been able to increase employees' understanding of how they impact the environment, and we've saved resources and reduced unnecessary expenditure."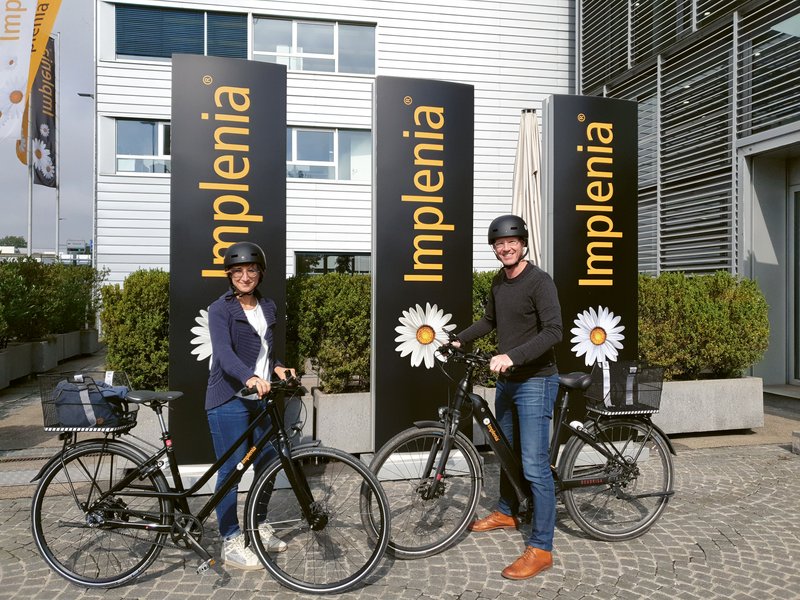 Sustainability at the new head office building
The Sustainability Team has also been heavily involved in the conceptualisation of Implenia's new Headquarters ("Implenia Connect"), and has ensured that Sustainable Office guidelines have informed the operating concept. For example, LED lighting with motion sensors and timers are being installed, alongside energy-saving devices and recycling stations for the most important types of waste. Ambassador House already has LEED Platinum certification and Implenia's tenant fit-out will be certified under the WELL building standard. WELL concentrates on ten factors that are scientifically proven to promote employees' health and well-being: Air, Water, Nourishment, Light, Movement, Thermal Comfort, Sound, Materials, Mind & Community. "We are on the right path towards a sustainable way of working at Implenia, helping us to live up to our social responsibility as a construction services provider," says Rolf Wagenbach in summary.